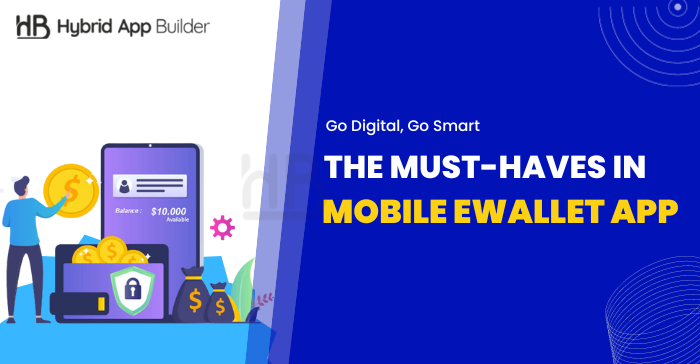 Given an option, will you return to the same old way of transacting only in Cash? If yes, you will have to look for an exact amount all the time, or the shopper might ask you to wait. The ease you get in the form of e-commerce will go away as many sellers will not offer Cash on delivery, and even if they offer, you'll face the same dilemma of having the exact amount.
A mobile user needs a cashless method, such as an eWallet app, to make our lives easier, safer, and faster. Data across the globe also shows our inclination towards cashless methods. With the development of technology and the high advancement of automated processes around us, we are transforming from Cash to cards to e-wallets and much more.
In this blog, we'll talk about today's Mobile eWallet App in detail, especially the critical attributes in case you want to go for e-wallet development.
What Is A Mobile eWallet App?
In its literal sense of usage and true meaning, an e-wallet, also known as an electronic wallet, is an evolved tech tool, or what one can also say is a digital application, responsible for holding and managing a user's finances.
A Mobile eWallet app contains all the added information about one's debit card, credit card, digital Cash, and more. E-wallets offer more feasibility than regular money as they can be easily accessed from any smart device, making convenient financial transactions possible. Instead of using your debit or credit cards, you use these e-wallets to make online and offline payments.
You can add money to an e-wallet using a credit card, debit card, or bank account transfer.
Majorly there are four types of e-wallets:-
Closed wallets
Semi-closed wallets
Open wallets
Crypto wallets
Thanks to the e-wallet, the risk associated with Cash and cards is also eliminated, presenting an excellent market potential for businesses to try. The popularity of Apple Pay, G Pay, Paytm, Amazon Pay, AliPay, PayPal, Cash App, and more has also ignited the interest of startups and established players.
Essential Traits Of A Mobile eWallet App
And these apps have a significant role in the convenience we offer through electronic wallets.
Mobile applications linked to e-wallets are an integral source, allowing people to use them and carry out transactions themselves. With one click, these apps help one manage their financial assets. With the advancement of technology, the e-wallet is also undergoing drastic changes. Here are a few features you should have in your mobile eWallet application.
Transaction History, And Notifications
One of the best things about using an e-wallet is that it allows one to track their history of transactions, thus letting a user learn about their financial transactions later in time. And if your app does not offer transaction history and notifications features, it will have a negligible probability of surviving.
Make sure to have these features, as users remain updated with any transactions and may also do better financial planning.
Management Of Virtual Cards
With mobile applications installed on phones and accessible with just one click away, these apps allow one to easily manage, edit information, alter, or delete the data on their virtual cards.
One can conveniently execute the funds in it and send or use them without carrying a physical card. Imagine a situation where a user has three or four cards. The user must remember them all to make as and when required. Here, a mobile eWallet app provides ways to save those cards and pay for any of them as needed.
Bill Payments
Another benefit of a mobile application is that users don't need to be queued or step out for necessary bill payments. Moreover, they don't require visiting the websites or apps of electricity distribution companies, mobile networks, cooking gas supply, etc.
They will save details of all the bills that must be paid in a month and can do it from one place. Your e-wallets must have these features to make users like it easier.
Contactless Payment Method
From all the other perks offered by e-wallets, the most convenient add-on is that with apps, the need to get in touch with anyone or be present with them to do the transaction has become zero. Users can do this with just a few taps.
If you're developing e-wallets, have contactless payment methods through QR codes, NFC, or one-time passwords.
Self-Registration
Unlike dropping by a bank or physically visiting an eWallet app, users expect quick sign-up. The whole purpose of convenience takes a back seat if the self-registration option is unavailable. At the same time, while making registration easy, you can't ignore data security and privacy. Work on having all the necessary features in your wallet for users to complete the registration from the comfort of their homes.
Chatbot in eWallet App
The addition of chatbots has made it feasible for every age and kind of user to access mobile applications. These automated bots help one to resolve any problem they face digitally on the app itself, without the need to connect with customer support.
Make sure to have chatbot features in the mobile eWallet app, as it will give you an edge over others. Users can also use the chatbot to ask questions and may get the answers.
Peer-To-Peer (P2P) Payments
Peer-to-peer, as we know it, stands for doing transactions from one person to another, and with a mobile application, any user can do so without any hassle. Millions of people use it for splitting bills or packing back to friends and others. The popularity of e-wallets in Asia is highly attributed to P2P payments.
Multi-Currency Support
With an e-wallet, one can make transactions with more than one currency. Hence, you can deal with your fund not just in your native currency but internationally, too. Thus making it convenient to carry out international monetary processes. Catering to multiple currencies allows expansion into other markets easily and presents a more significant market share.
Advanced Security Features
A Mobile eWallet app must have in-built security systems and a proper framework to ensure users' safety, information, and data. So they can use them without worrying about data compromise.
To be a successful eWallet company, you must:
Comply with essential regulatory compliances, such as data privacy regulations and PCI-DSS standards.
Implement security features like multi-factor authentication, secure data transmission, and storage.
Guard against fraud by transaction tracking and unusual activity alert.
Conduct regular security audits.
Benefits Of eWallet App For Businesses
Electronic wallets have made it possible to do online or offline transactions within a few seconds. This convenience has brought the multitude of benefits for both users, and businesses. The key advantages of an e-wallet application for businesses are as follows –
Enhanced Customer Convenience
No one can deny that these electronic wallets have significantly transformed financial transactions. As it had allowed both parties to send and receive money without getting into direct contact. And also, the data suggests that e-wallets have led to higher conversion rates for online businesses.
Reduced Fraud Risk
The fact that it lowers the risk of fraud is one of the additional benefits of businesses embracing mobile eWallets. These eWallet Apps have biometric identification and encryption features.
Global Reach
One of the many advantages of forgoing electronic wallets when operating a business is the extension of sales to an international market and the expansion to a worldwide front, which enables firms to broaden their client base and generate profits.
Outcome
A contemporary mobile eWallet app is more than simply convenient in a time when every second matters; it's a digital revolution in your pocket. These applications transform how we think about and manage money thanks to their cutting-edge features and strong security measures. As you embrace the digital era, choose an eWallet that is actually up to date to make sure your transactions reach new heights.
The following two tabs change content below.

HybridAppBuilders
Co-Founder & Director, Business Management
HybridAppBuilders help you find the best app developer for your needs. We believe in sharing knowledge and increasing awareness, and to contribute to this cause, we try to include all the latest changes, news, and fresh content from the mobile app development world in our blogs.

Latest posts by HybridAppBuilders (see all)