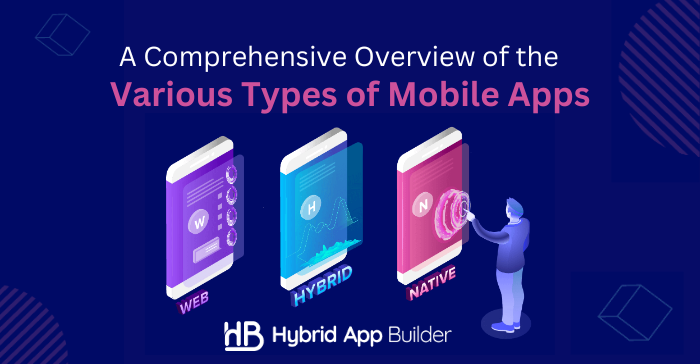 Are you curious about the multitude of mobile app types in the market? With millions of apps available, thinking about the various types of apps is quite apparent. Whether you're a business looking to make hay while the sun shines in the app market or an end-user mostly glued to the mobile, apps are now an indispensable part of our life.
There is an ever-increasing demand to hire mobile app developers and have apps for many services, from productivity, gaming, social networking, health, education, and what's not. Our daily lives are now intertwined with these apps, enabling us to perform myriad tasks ranging from ordering food and booking rides to managing finances and staying connected with loved ones.
"The mobile app industry is booming; it's not too late to catch the wave."
So, without any further ado, we'll take you to the different categories of mobile apps.
Different Forms Of Mobile Applications – By Technology
Native Mobile App
Fast, reliable, and native to end users' device
As the name denotes, Native apps remain indigenous to the operative system for which they come into the market. iOS, Windows, and Android are three operating systems covering the highest chunk of market share, as high as 90 % across the globe.
Native apps are considered fast, reliable, and responsive to develop. Moreover, they work offline, such as Bluetooth, camera, and other useful apps you use daily.
If you want to add device-specific functionality such as a camera, native apps are the preferred choice. While going for it, remember the disadvantages of writing codes for different platforms, thus increasing cost and resources. Businesses hire mobile app developers who use technologies like C++, Java, Kotlin, Objective C, Swift, and Python for development.
Web App
The power of the web at the fingertips
The most commonly used applications are web applications. From your favorite binge-watching app of Netflix to the premier roaster and retailer of specialty coffee- Starbucks, these categories have all sorts of takers.
Sub-Categories Of Web Apps
Static web application
Animated web application
E-commerce web application
Dynamic web application
Portal web application
Progressive web app
Single-page web application
Multiple-page web app
Hybrid Mobile App
Innovative technology for a connected world
The word "Hybrid" has crept into everything from cars to mobile apps. When it comes to Hybrid apps mean an app that possesses the best of the other worlds of mobile app development – web app and native app.
Developers build hybrid apps using emerging technology, such as CSS, Objective- C, JavaScript, Flutter, Iconic, Apache Cordova, Xamarin, AppMakr, and Swift. Their operating system is wrapped with a native shell that is further decoded by devices when needed.
So irrespective of your device, the user interface, performance, speed, security, and accessibility remain almost the same. As these apps are not bound to a specific platform, it is excellent business acumen to hire a mobile app developer for this category of apps.
Various Types Of Mobile Apps – By Functional Category
It is another prominent category of mobile apps that depends on categorizing apps by their intended use. Do you know there are approximately 49 app categories on Google Play Store, whereas the number is 41 for the iOS app store?
You can check the complete list at the respective stores. So we're leaving the exhaustive list. Broadly classified, they are into ten categories.
Tools or utility apps
Social networking
Lifestyle
Fitness
Productivity app
Entertainment
Games
Business app
Health
Finance
Types Of Mobile Apps For Business
Any business exists only when there are takers of their services and products. The simple rule of demand and supply applies where companies operate to fulfill the demand. So the point is, who creates demand?
The answer!
Either one business creates for others.
Or, a customer creates demand for businesses.
That means there are two categories of mobile apps as per the business channel.
Business To Business App- App created to help the fellow business
Business To Customer App- Apps created for end users
Which Types Of Apps Are Best? – Know Before You Hire Mobile App Developer
When it comes to choosing the best type of mobile app for businesses, it depends on several factors, such as budget, time, functionality, user experience, and target audience. Consider the pros and cons of every type to decide which one is best suited for their needs:
We can't truly determine which apps are best per functionality and business channels, as it depends on your existing business and app idea. However, we can surely help in choosing the apps based on technology. We recommend you try hybrid apps as it promises good performance at a cost-effective price.
If you want some more clarity on choosing the ideal mobile app, answer these questions and get the answer.
What is the goal of having mobile apps?
How big is the budget?
Can you outline the technical prerequisites that your business requires?
What is the target audience?
List the benefits for end users.
Could you list the key features you require in the app?
What legal requirements are there if you choose a specific category?
How important is designing for your app?
Final Thoughts
You must have understood the "world of mobile app development" by now. But Before we sign off- here is a short exercise for you.
Just put your phone aside and read some other blog on our platform. Once you finish reading blogs for a few minutes, note which distractions you received the most. Don't forget. We know distraction is quite evident in this digitally connected world.
We bet you that the significant distraction is your mobile and notifications from multiple apps. If not, you're on track to avoid the onslaught of apps and being addicted to them.
Regardless of which category of apps you choose, don't forget to hire a mobile app developer with all the required skills and experience to make your app dream a reality.
The following two tabs change content below.

HybridAppBuilders
Co-Founder & Director, Business Management
HybridAppBuilders help you find the best app developer for your needs. We believe in sharing knowledge and increasing awareness, and to contribute to this cause, we try to include all the latest changes, news, and fresh content from the mobile app development world in our blogs.

Latest posts by HybridAppBuilders (see all)