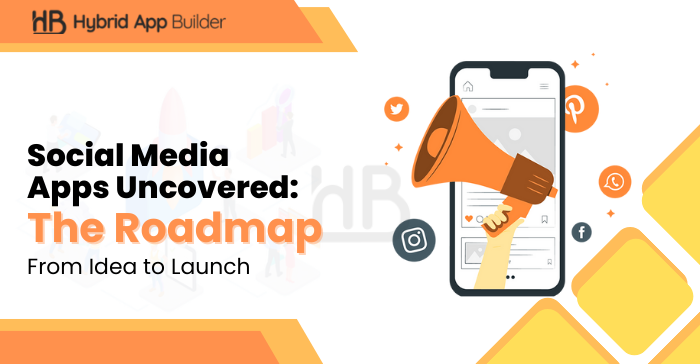 In today's world, Social media has become an inseparable part of our life, it's like another world to us. Most people no longer prefer newspapers with their morning tea; they prefer phones, by which they can surf on social media.
Along with the growing engagement of people, Social media is no longer just an entertainment platform; businesses have also started using social media platforms as a marketplace to maximize their customer base.
You must read this blog if you're considering social media app development. We will cover social media app types, trends, essential features, and their development cost. Everything that you need to know before developing a social media app.
Why Should You Think About Social Media App Development?
Developing a social media app is a viable and potentially rewarding endeavor.
Scope For Innovation- Always
The social media landscape continually evolves, and there are still opportunities for innovative ideas and features. New ways of connecting, sharing, and engaging with content are always in demand.
Niche Communities
Big social media platforms cater to broad audiences. That means there's room for platforms focusing on specific interests/niches. Building a social media app that caters to a particular hobby, profession, or lifestyle is great.
Privacy And Data Control
The concerns about data privacy/security are growing. It presents an opportunity to create a social media platform that emphasizes user control over their data.
Content Monetization
Many creators seek platforms to monetize their work better. You can tap this market through social media app development in an innovative way.
Localized Engagement
Social media apps focusing on local communities or specific regions can provide a more personal and localized experience. This is especially appealing for people seeking connections in their local areas.
Augmented Reality (AR) And Virtual Reality (VR)
Incorporating AR and VR technologies into a social media app offers unique ways for users. In this segment, there is great scope for anyone.
Emerging Trends In Social Media App Creation- 2023
According to Statista, approximately 3.81 billion people use social media as active users; among them, 3.76 billion use mobile apps to surf. A particular user spends more than 2 hours daily on social media.
Knowing about the new trends in social media is important. Here we try to cover all those trends that are expected to gain more popularity and engagement during the year and further:
Reels or short-term video content will become more popular.
People will consider augmented and virtual reality to personalize their social experiences.
People streaming their special moments live on social media will increase.
Influencer marketing will turn into a popular way to promote businesses.
Social commerce will influence B2B, B2C, and C2C markets in a more impactful way.
Community creation will help to engage people more on social media.
AR Filter trend will rise.
Types Of Social Media App Development
Influencer Marketing Platform
AspireIQ, Influencity app,
Social Commerce Platform
Instagram Shopping, Facebook Marketplace, Poshmark
AR Filters, And Effects App
Snapchat, Instagram, and Facebook Camera Effects
Anonymous Social Media App
Whisper, Yik Yak
Audio-Based Social Media App
Clubhouse, Stereo, Riffr
Local Networking App
Nextdoor (for connecting with neighbors), Meetup (for local events and gatherings)
Mental Health And Well-Being App
7 Cups, Headspace, Talkspace
Common Features Of Social Media App Development
You can see there are so many types of social media applications, and each has different specialized features that help to make them different from other apps. Here we will discuss some standard features you must consider adding to your when you choose to have a team of the best social media app developers.
Profile Creation And Secure Login
It is the most basic feature to add to your application, by which people can create profiles and securely login into your app without having any trouble or doubt of data leaking.
Hashtags And Trending Topics
Support hashtags to categorize content and enable users to explore trending topics. With this facility, people can upload a particular post on different social media apps at the same time. It improves the utility of your app; they don't have to surf other apps to upload the post.
Customizable Privacy Settings
Users enjoy sharing content on social media platforms with a broad audience, yet there are occasions when they wish to limit their post visibility to a select few. Therefore, incorporating a privacy feature that allows users to customize their post's audience is a valuable addition.
Photo And Video Uploading
It is the essence of social media app development. In every social media application, you will find the feature. It is the way by which people share their thoughts, events, and ideas with others
Open Forum
Social media is the easiest way to know and connect with other people having the same interest as yours. Social media apps allow users to place their opinion and thoughts among all and help them to connect with like-minded people.
So, if you consider adding a forum-type platform through which people can connect with users have similar interests and can talk about their chosen topic is a great thing to boost your app's fame.
Analytics And Insights
People are always curious about their post's performance and reach. You must consider adding an analytic feature by which users can monitor post performance.
Integration With Other Services
Add a separate space for other apps or services, like links to websites, e-commerce platforms, or music services. This app development social media integration concept will benefit small and large-scale businesses to advertise their businesses and connect with customers.
Advanced Features For Your Social Media Apps
Here, we listed some advanced features that you can consider during app development:
Tagging
This advanced feature allows users to tag others on a post and comment. After tagging, the tagged user gets an instant notification, by which the user can see who tagged him and in which post.
Add Games
Recently, major social media apps have included some fascinating games to amuse users. It is another practical feature to increase the engagement time.
Report Abuse
You must maintain users' privacy in the app. Adding a feature like this will help users to report an abuser. It will improve the overall experience of the users.
Cost Of Social Media App Development
The development cost varies (from $30,000 to $250,000) depending on the social media app requirements. It depends on features, tech stack, UI/UX design, and other aspects. The complexity of your app is also an essential factor that can affect your app's cost. The cost will rise along with the complexity and vice versa.
Depending on the above factors, let's see a roughly estimated cost chart along with the build time.
| Level of complexity | Approx Cost | Approx Time for App Development |
| --- | --- | --- |
| Basic | $30,000 to $80,000 | 3 to 6 months |
| Medium | $80,000 to $150,000 | 6 to 9 months |
| High | $150,000 to $250,000 | 9+ months |
Conclusion
It might threaten to enter the social media app market and get chunks from biggies like Facebook, Twitter, Instagram, and Pinterest. However, it's worth a try. Due to user needs and technology improvements, this app development field is constantly changing.
Future social media platforms will be shaped by augmented reality, transient content, AI-based personalization, hyper localization, and niche-based social media apps. That offers a silver line for all to try their hands in social media app development.
The following two tabs change content below.

HybridAppBuilders
Co-Founder & Director, Business Management
HybridAppBuilders help you find the best app developer for your needs. We believe in sharing knowledge and increasing awareness, and to contribute to this cause, we try to include all the latest changes, news, and fresh content from the mobile app development world in our blogs.

Latest posts by HybridAppBuilders (see all)