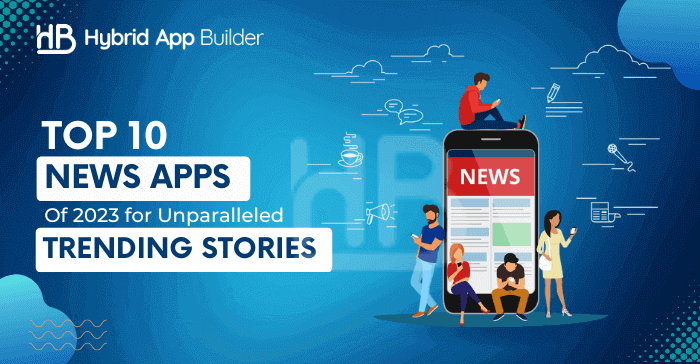 Many global events and developments demand our attention in a world of interconnectivity. We reasonably feel secluded when left without the news of our interests or not having an idea of the happenings around us.
And what's better than having some best apps for news on your mobile? You no longer require a specific time and place for news reading or watching your favorite news piece. Here, we have curated the top 10 news apps to stay updated everyday and "Yes" to make yourself aware and empowered.
"Top applications, fantastic opportunities. Innovate, explore, and transform your world."
Top 10 Best Apps For News In 2023
Daily Hunt
Homegrown news app, Dailyhunt, offers news in 14 Indian languages. With a wide range of information and updates along with multiple sources and topics, Dailyhunt has managed to keep us all updated with the daily news catering to the interests of a diverse audience.
Its user-friendly interface and regular updates on current events, entertainment, sports, and more, all in one accessible manner, make Dailyhunt one of the best news apps.
Google News
We are all well acquainted with the Google apps, from Chrome to Docs and Meet to Business. But Google has a well-developed best news app for Android and iPhone that provides you with news at your fingertips.
With the app available for Android and iOS, no doubt Google News is one of the most used news apps that stands out. From breaking news to in-depth analysis, it covers diverse topics, including politics, tech, and entertainment.
NDTV
Over the years, NDTV has gained the reputation of being one of the best apps providing unbiased news updates along with live streams.
You can also find the top shows featuring renowned NDTV anchors. Additionally, NDTV offers a Live TV section for real-time viewing of their programs. NDTV's journalistic integrity makes it the user's favorite and best news app for iPhone and Android.
Aaj Tak
Aaj Tak news app is from India's Living Media India Limited, which owns Aaj Tak, Headlines Today, India Today, and over 20 regional news channels. It is India's most downloaded news app.
The app has a unique interface allowing users to personalize their feed according to their likings and choice of news genres, including breaking news, live TV, and on-demand videos about politics, sports, local news, global news, market, etc.
This app ensures a seamless news experience for its users, keeping them connected and informed with just a few taps.
Times of India
Being one of the oldest Newspaper circuits, the Times of India has developed a mobile news app with over 70 million users using the TOI app regularly to stay connected and informed about current affairs.
Times of India has a long chain of well-versed journalists who provide genuine news about politics, health, local, global, market, sports, and many more. TOI is indeed one of the best apps for news updates.
Inshorts
The unique way of producing news in short 60 seconds video form, Inshorts is genuinely a groundbreaking news platform mobile app that has saved precious time for millions of users around India. Users can quickly catch up on current affairs, sports, entertainment, and more in seconds.
With personalized feeds and swiping features, Inshorts has been downloaded by over 10 million users for providing trustworthy news.
Jio News
Reliance Group of companies launched the Jio news app in late 2010, and since then, Jio News has gained a good reputation for providing genuine news updates to users in India.
Like other mobile news apps, Jio News has diverse news categories, from politics and business to sports and entertainment.
ABP Live
ABP Live is one of the best apps for news available in over six different Indian languages, including Hindi and English. It keeps users up to date with the latest sneak peeks of news.
ABP Live offers written blog news articles and live streams for users to view on mobile phones. One no longer has to sit in front of the television and watch the breaking news; ABP Live covers real-time news in their mobile app.
ET Market
ET Market is the ultimate financial news app for your market news updates. From stocks rising high to the market collapse, the ET market provides the most genuine share market news for busy business people on the road. Its in-depth analysis of market trends is well-researched.
Jagran
Last but not least, Jagran, India's one of the leading Hindi Newsgroups, has a mobile news app for Android and iPhone users. The Jagran app is among the best apps for local news due to its coverage across India.
Although the Jagran app is a part of the Hindi newsgroup, it provides the latest news in both English and Hindi. With 400+ sources, Jagran delivers the best local news for users in India.
Why Are News Apps Best For Keeping Yourself Updated?
Anywhere, Anytime – News
Instant updates
Personalized content
Diverse sources of news
Multimedia experience
Notifications and alerts for breaking news
Offline reading with some apps
Reduced clutter, lesser distractions
Bookmarking and sharing option
Eco-friendly- no waste of paper
Wrap Up
Luckily, we live in an age where technology is here to make our news consumption easy. With countless news apps available at our fingertips, we can customize news consumption and keep up with the latest updates from around the globe.
Whether you prefer bite-sized updates or comprehensive articles, personalized feeds, or live streaming, these best apps for news have you covered. Stay ahead, stay connected to the world, and stay informed with the convenience and accessibility of these top-notch news apps.
The following two tabs change content below.

HybridAppBuilders
Co-Founder & Director, Business Management
HybridAppBuilders help you find the best app developer for your needs. We believe in sharing knowledge and increasing awareness, and to contribute to this cause, we try to include all the latest changes, news, and fresh content from the mobile app development world in our blogs.

Latest posts by HybridAppBuilders (see all)