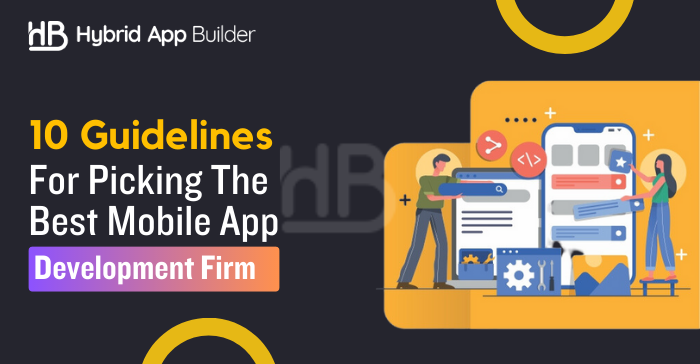 With so many businesses preferring an in-house team for all sorts of tasks, dedicated app development companies are still growing substantially. What are those solid reasons behind hiring a mobile app development company rather than having an in-inhouse team?
The focus on core competencies, cost-effectiveness, scalability, flexibility, access to advantage technology, and expertise drive their popularity. But, with hundreds of companies, choosing the best one requires a thorough search and some pro tips. You're at the right place here, as this blog will provide ways to find the best app development company.
"Don't settle for average; aim for greatness by choosing the top mobile development company."
Mobile App Development Company – Introduction
Companies specializing in app development for mobile and other portable devices are called so. They possess a dedicated team for app development and work on various technologies such as Java, Python, R Programming, C++, HTML5, C#, Kotlin, React, Flutter, Iconic and more. They work on native, web, and hybrid apps for clients across industries.
How To Choose The Top Mobile Development Company?
Know Why You Requires An App
A development company can only deliver its best with clarity. Indulge all stakeholders and brainstorm on every aspect of the app, from platforms to the technology stack, features, design, safety framework, and more.
Do a competitive analysis of what not to do in app development. Make sure you have all these in written form, as they will work as reference points in the future. Make it as detailed as feasible.
Reach Out To Companies For First-Hand Experiences
As you have shortlisted 5 to 8 companies by reading their reviews, testimonials, and how professionally they present their websites, just send formal emails to all of them. See how prompt and professional they react to that email.
You can also call or chat to learn more about their business. Try to get the first impressions, as it works like a base for you to proceed.
Methods To Choose Mobile App Development Services
Start by searching for the top companies on Google, and shortlist them. Moreover, don't limit yourself to the first page, as many experienced and affordable companies find their place on the subsequent pages.
Also, visit listing websites for app development companies. Seek help from friends, colleagues, and other staff members about companies they find well-suited for your work.
Online platforms and communities can also help you connect with mobile app developers. These platforms provide a space where businesses can post their app development requirements.
Go For Reputation, Experience, And Certification
You should share classified information with the mobile app development company for that NDA and privacy agreements matter. Signing such a bond gives you confidence in sharing confidential information. By doing that, you avoid future discrepancies as well.
Check For Communication And Collaboration Abilities
App development takes time, effort, and resources, so open and systematic communication is necessary. Choose the one who maintains open lines of communication and promises to provide updates on your project regularly. Check for any Lancaume in responding to your queries.
Ensure The Company Has Technical Expertise
Ensure their team knows the latest AI and ML technologies. This is important because it means they can use the most up-to-date tools and techniques for app building. Moreover, ensure they have technical expertise in the platforms on which your app will be based.
Connect With The Team Members
No company itself works; they hire mobile app developers to work on your project. Irrespective of your chosen company, the project may only fetch the expected results if the team is efficient.
If feasible, request the company for direct one-on-one virtual or physical meetings with the team that will work on your project.
Look Value For Money
Who doesn't like to get more done at a lesser price? Everyone! However, prioritizing cost over quality, speed, security, and other aspects of app development is a grave mistake. The best way out is to look for values you'll get by putting money, time, and other resources.
Here is a pro tip- Compare quality, cost-effectiveness, long-term benefits, support & maintenance, and business objectives before you finalize the deal.
Pre-Development And Post- Development Support
Most mobile app development companies remain supported during the development process as you'll pay them for their work. What makes the difference is pre and post-development support?
Will the company provide requirement analysis, planning & strategy support, help choose technology decisions, and more?
Will the company provide bug fixing, quality assurance, further enhancements, device support, post-launch maintenance, etc?
Try to seek answers to these questions before finalizing the best mobile app development company.
Written Contract Is Important For App Development
No one can afford disputes during or after the app launch. In some cases, issues arise on submission to the app store, testing, device compatibility, UI/UX, and what's not. So insist on having a scope, deliverables, communication medium, point of contact, timeline, intellectual property rights, payment terms, dispute resolution, and other details you find mandatory in the contract.
Closing Remark
Remember, the success of your project hinges on partnering with a company that aligns with your business goals and possesses the right expertise. To develop user-friendly mobile apps, they must adhere to industry standards and follow current trends. We're hopeful you'll find the top mobile app development company with our tips—best of luck with your thinking to start your app journey.
The following two tabs change content below.

HybridAppBuilders
Co-Founder & Director, Business Management
HybridAppBuilders help you find the best app developer for your needs. We believe in sharing knowledge and increasing awareness, and to contribute to this cause, we try to include all the latest changes, news, and fresh content from the mobile app development world in our blogs.

Latest posts by HybridAppBuilders (see all)