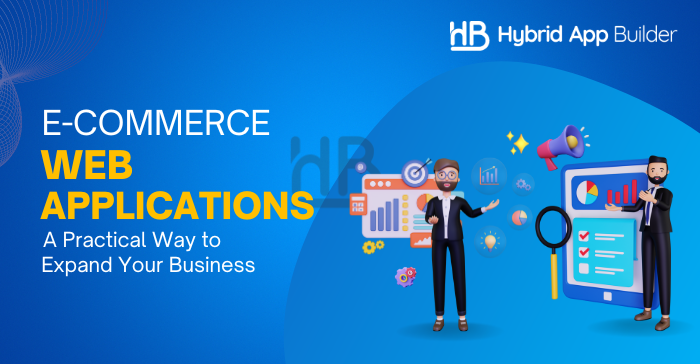 Do you know 20.8% of global retail purchases will happen online in 2023? Long gone are the days when consumers preferred shopping in stores. Now, everything is online! With the sudden rise of eCommerce, retailers, and business owners are opting for cost-effective mobile app development solutions to create their Shopping Apps!
Why stay behind your competitors when you can have your eCommerce shop?
It's time to leverage mobile applications to reach more customers online! Invest in eCommerce apps to enhance your business potential. So are you ready? Let's discuss the basics of eCommerce mobile applications!
Key Advantages Of Having A eCommerce Mobile App
Here are the top reasons that confirm why mobile app is important for business:
Apps are more convenient for customers than using websites or browsers.
The app lets customers access products, services, orders, and payments quickly.
Customers get to enjoy a personalized shopping experience online.
Applications auto-generate shopping suggestions based on previous order history and customer preferences.
Customers receive intimation of the purchase details through push notifications.
Apps offer a better user experience with well-optimized interfaces and faster loading times.
These are some of the few reasons why are apps important. Mobile applications offer eCommerce business owners the perfect platform to build stronger customer relationships directly. It's a golden opportunity for retailers to increase customer engagement with exciting offers, features, and services.
From the buyers' prospect, online shoppers can shop online from anywhere, anytime. They can provide feedback about their shopping experience through mobile. Hence, eCommerce retailers can refer to customer reviews for service improvements.
The Best Option: Hiring Mobile App Development Experts
Creating a successful e-commerce mobile app requires technical expertise. If you need to learn how to get started, it's best to take assistance from expert application developers. Hiring experienced application developers is budget-friendly as compared to developing the app in-house.
Mobile app developers specialize in custom feature development. You can choose any OS platform for your app, such as iOS, Windows, Android, Cross-Patform, etc.
You can choose the "Custom App Development Consulting" service to understand why are mobile applications critical. The professional consultants with assist you in creating an app development roadmap that best fits your eCommerce app requirements.
The Main Services To Opt For
Depending on your needs and budget, you can opt for various services when hiring mobile app development experts. The primary benefits to consider include:
Design and Development: Mobile app developers design and develop a well-optimized eCommerce mobile app from scratch. Once you convey your vision, they create a development roadmap that meets the business's requirements.
Cross-Platform Support: Whether iOS or Android, the developers can develop cross-platform mobile apps for you! As the application gets a single codebase, it becomes easier to manage and update the app in the future.
Customization Flexibility: Most eCommerce apps update their interfaces and features to match the latest market trends. Hence, your eCommerce app should have complete customization flexibility to modernize its UI/UX in the future.
Integration with Other Systems: E-commerce apps often requires integration with payment gateways, inventory management systems, and shipping providers. So consider these application features to ensure seamless integration with other systems.
Maintenance and Support: Once mobile app development is complete, the app requires ongoing maintenance and support. Hence, ensure the developers provide app maintenance support to keep it up-to-date.
Cost Considerations/Pricing
The cost of e-commerce app development can change based on several factors. Take application design or platform complexity as an example due to the need for more expertise.
However, as you know why are apps useful, you should consider the following cost factors when developing an e-commerce mobile app:
Design and development costs
App maintenance costs
Server/platform hosting costs
System integration costs
Marketing and advertising costs
Businesses must consider the above categories while creating the eCommerce app development budget.
How to Start Building the Application?
Businesses should follow these steps to get started with e-commerce mobile apps:
Define the requirements: Identify the features and functionality required for the e-commerce app. Some popular features include payment gateway integration, product catalog, customer options, admin features, shopping cart, etc.
Choose the platform: Decide which platform the app will have; iOS, Android, or both.
Hire mobile app developers: Select a reliable and experienced development team to develop the app. Ensure that the development plan meets the business's requirements.
Test and release the app: Perform extensive testing for quality assurance. Publish it on the application store of the chosen platform, like Google Play Store for Android and Apple Store for iOS.
Businesses can also do influencer marketing on social media channels to promote the e-commerce mobile app.
Key Takeaways
Mobile app development is crucial for the survival of today's retailers, store owners, and service providers. Not only it helps in increasing the customer base, but it also promotes higher customer retention. With a well-optimized mobile app, businesses can quickly improve their sales and generate higher revenues!
The following two tabs change content below.

HybridAppBuilders
Co-Founder & Director, Business Management
HybridAppBuilders help you find the best app developer for your needs. We believe in sharing knowledge and increasing awareness, and to contribute to this cause, we try to include all the latest changes, news, and fresh content from the mobile app development world in our blogs.

Latest posts by HybridAppBuilders (see all)