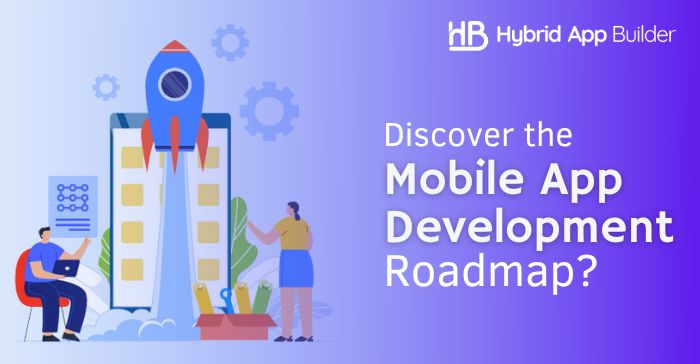 Do you want to create a mobile app? You may seek insight into the crucial phases of developing a prosperous mobile app. We have everything you need! The mobile app development process entails meticulous preparation, design, testing, and release
This blog will guide you through this exciting roadmap, covering each step in detail. Whether you are a seasoned app developer or a newbie, this blog will provide valuable insights to develop an app that stands out in the crowded app market. Let's get started! 
"A successful mobile app is not just an idea; it's a journey that starts with an idea and ends with a well-executed product." - Chioma Ifeanyi-Eze

 
What Is Mobile App Development
App development is developing apps made to run on smartphones, tablets, and other mobile devices. Application development companies create them to perform specific tasks or services, such as social media, gaming, banking, navigation, and productivity.  
Once the app is ready, you can make it available for users to download from Google Play Store or Apple App Store. Developers use programming languages such as Java, Swift, or Kotlin for app development.  
Understanding The Roadmap For Mobile App Development
A road map is like a strategy or a step that helps you stay on track. Developing a mobile app is tedious as you face many challenges and strategies. But with the help of a full-fledged roadmap, you can quickly implement your strategy to create your mobile app. 
First, you must establish what your app is all about and what it will provide for your users before reaching into mobile app development companies. It will help you understand what features to prioritize, what the overall vision of your app is, and how it will evolve.

 
After defining the product, you need to map out a roadmap that outlines the steps you will take to achieve your goals. 

 
Key Steps In Developing A Powerful Mobile App
Once you have a product roadmap, it is time to start building your app. Whether you are building an eCommerce platform, an insurance app, or a social media application, establishing your core functionalities will help you develop the right app for your needs. 
Several key steps in mobile app development are essential to ensure success. These include: 
Do The Market Research
To create a successful mobile application, you must pinpoint a significant problem for the target users. This helps you understand how your app can benefit users and why it would be helpful to them. It will also help you determine the USP of your app and how you can differentiate yourself from your competitors. 
Creating A Solution
Once you have identified your problem, it is time to develop a practical and feasible solution. It requires a detailed analysis of your market and potential customers before going into the actual mobile app development services. It will enable you to create a concise plan to guide the development process. 
Find Resources
Now you have your motive and reason for developing a mobile app. Finding resources and the latest technologies will help you choose the right tech stack for your application and give you a better idea of what sort of developers you need to work with. Apart from this, you also need the latest technologies or tools to develop your mobile app. These include mobile development platforms, databases, server-side objects, and more. 
Proceed To App Design
Keeping your app's look and feel in mind is crucial to its success. It is because mobile apps are highly dependent on user experience (UI/UX) and engagement, and good UI/UX design can go a long way in attracting new users. 
Your app's visual design should be simple, clean, and uncluttered. It should also be optimized for each device screen so it's easy for users to interact with and get the most out of your app. Here, you should hire mobile developer having a keen interest in the UI/UX of the apps.  
Work On App Development
It is the most crucial stage of mobile app development, including all the major tasks, such as writing code and designing graphics for the app.  
Front-end development includes app graphics or animation and optimizes the app's user interface (UI/UX). Back-end development has everything from managing transactions to managing data storage. 
Test, Test, And Test
Once your app has been designed, it must be tested for compatibility with all the major operating systems (Apple iOS, Android, etc.) and devices. That is more than optional when you have custom apps. With new mobile devices coming to the market every year and operating systems updating monthly, custom mobile app development companies must do the testing based on the latest trends.  
Therefore, you should also consider testing your app on multiple devices to see how well it performs in various settings. It will allow you to detect lags, responsiveness issues, and other common problems. 
Concluding Remarks
In conclusion, developing a successful mobile app requires careful planning, attention to detail, and a commitment to delivering a seamless user experience. Following this blog post's roadmap ensures that your mobile app development process is well-structured and optimized for success. Remember to keep your end-users in mind at every step of the way, and don't be afraid to iterate and make improvements based on feedback. With dedication and hard work, you can create a mobile app that delights users, solves real-world problems, and achieves your business objectives. 
The following two tabs change content below.

HybridAppBuilders
Co-Founder & Director, Business Management
HybridAppBuilders help you find the best app developer for your needs. We believe in sharing knowledge and increasing awareness, and to contribute to this cause, we try to include all the latest changes, news, and fresh content from the mobile app development world in our blogs.

Latest posts by HybridAppBuilders (see all)