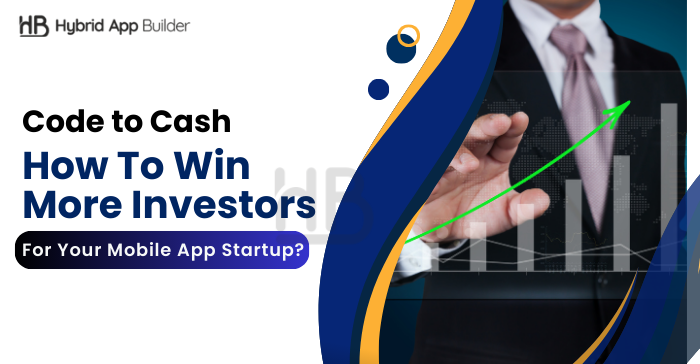 The ever-evolving landscape of technology and innovation has recently witnessed a transformation in the industry with the exponential growth of mobile applications globally. The mobile app industry has experienced a remarkable value of $935.2 billion in 2023.
That obviously will lead to every entrepreneur getting eager to use the opportunity to make a profitable business out of a visionary app concept. However, the question often lies: Who will invest in your startup?
Securing investors for any mobile application venture requires the right approach and absolute commitment to the project. This ultimate guide will help you with the information required to get the investors for your mobile application startup.
Ways To Attract The Right Investors For Your Mobile App Startup
Securing investors willing to invest in your app can be daunting. Finding investors who not only bring capital but also align with your vision and can provide valuable guidance is crucial. Here are a few tips that will help seal the deal for your mobile application startup.
Start Search For Ideal Investor Profile From Early Stage
Not all businessmen or investors can be interested in your app idea. You need to look for investors inclined towards your application and available to offer their experience and capital for taking the app to the targeted users.
Start by a detailed business plan with the app's purpose, market analysis, revenue model, target audience, and growth strategy. Investors just love to see how complex you are about the plan.
Don't wait for the later stage, as the early start of searching for the ideal investor gives you ample time. While looking for "how to get investors for an app," follow a strategic approach and a careful plan:
Online databases like Crunchbase, Angellist, and Pitchbook are the mecca of new startup companies. These online platforms help find the right investors by carefully reviewing the portfolios and criteria.
All entrepreneurs should know the latest industry news and attend events and seminars aligned to the tech. Shark tank-like pitch competitions are great places to meet potential investors who can join your startup journey.
Always try to work with a diverse team who individually have strong alma mater or alumni connections. These alumni connections are often easier to convince for investments than those who have common ground. A soft corner builds up when two people from the same institution come to the two ends of the table.
Investors often want to see a working prototype or MVP before committing. This demonstrates that your idea is feasible and has potential.
Create A Compelling Pitch
Just looking to "find investors for my app" is not enough. You need to create an impressive pitch for the mobile app so that the investors are impressed and have no doubts about the journey.
As we all know, the first impression is the last; the pitch presentation should leave no area of doubt or a gray space for the investors to question or back out from investing in the app.
Clearly explain the problems your app will solve and how users will benefit from the application. Then, move on to how your team plans to advertise and campaign about the app to reach the target audiences. Last but not least, your pitch should also have the revenue collection structure and a few figures you expect to gain post the mobile application launch.
Craft a compelling elevator pitch that clearly explains your app's value proposition. Moreover, I also worked on delivering the pitch concisely and persuasively.
Utilize Online Platforms And Resources
Online platforms have many resources and help mobile app creators connect with investors. Many big apps started small with crowdfunding from multiple online platforms to get the initial funding. Equity crowdfunding platforms like SeedInvest and Crowdcube allow online crowdfunders to invest more in exchange for company equity.
This makes it a broader pool of investors with less effort and wholly based on the idea and pitch video uploaded on the platform.
Create An Online Buzz And Presence
In today's scenario, online presence is significant in building brand credibility. People first Google any business before trusting it, and if your business is not present in the top results, the potential user's mind automatically gets shut to an extent. Hence, it is crucial that your future or ongoing mobile app project is properly present and the SEO optimization is on point.
Online reviews and testimonials also showcase the app's success and help you attract more users and investors to invest in your app startup.
Explore Networking And Leverage Industry Connections
Networking and leveraging industry connections are essential for the growth and success of your app startup. Relevant events based on the industry section of your mobile application are important and a great opportunity to meet like-minded people who share an interest in the same field.
Engagement on professional social media platforms like Linkedin and X ( formerly known as Twitter) also becomes a common platform for connecting with industry experts, potential collaborators, and investors.
You may enroll in incubator or accelerator programs that provide access to valuable mentors and advisors with extensive industry connections. That program is an excellent place for people to have ideas on apps to meet investors.
The right balance in online and offline networking offers valuable connections that can generate investors willing to invest in your app startup and provide mentorship as an industry expert for better profit returns.
By dedicating time and effort to cultivating these industry connections, your app startup can tap into valuable opportunities, collaborations, and introductions, ultimately driving its growth and success in the competitive app market.
Be Ready With Data To Showcase App's Potential And Market Opportunity
To showcase the potential of your application and get an idea of the market opportunity, focus on the value proposition and market demand.
The market opportunity is substantial. Target app users usually mainly include millennials and Gen Z, who are digitally savvy and seeking intuitive mobile solutions for every problem. Make sure to provide some initial features to the potential investors to help them get the vibe and essence of the mobile app.
Be ready to present user engagement, growth metrics, and revenue generation evidence. Investors want to see that your app is gaining traction in the market.
Always try to showcase why your team's app stands out and has a good position to capture an amount of investment from potential investors. Using key statistics and the market opportunity can convey a transparent and clear message to the investors.
Different Funding Options For Mobile App Startups
Those days are gone when the ways to fund the business were limited. Now, you have many ways to get funding from outside sources.
Bootstrapping
It's about self-funding your app business with personal savings or revenue from other sources. While it requires financial discipline, bootstrapping provides complete control over your project.
Friends And Family
Look for borrowing money or receiving investments from friends/family members. Those who believe in your app idea might invest in that. Ensure clear agreements and communication to avoid potential conflicts.
Loans From Financial Institutions
Traditional loans can provide capital with little hindrance. However, it comes with interest and repayment obligations. You should submit the collateral and a solid credit history. However, it is a great way to get initial funds for mobile app startups.
Angel Investors
Angel investors are people with high net worth who can pump capital in exchange for equity in your startup.
Crowdfunding
Crowdfunding is a new solution to get investors from a broader spectrum who believe in your app idea and invest via crowdfunding platforms like Kickstarter and Indiegogo.
Small Business Grants
Governments across the globe provide many grants and programs supporting small businesses and startups. These grants offer non-dilutive funding to get you started.
Incubators And Accelerators
Joining an incubator/accelerator program is another excellent way of funding. Moreover, you can also get mentorship and resources.
Initial Coin Offerings (ICOs)
For blockchain-based apps, ICOs involve selling utility tokens to raise capital. However, they require compliance with evolving regulatory standards.
Wrap Up
Securing the right investors for your mobile application startup needs a combined plan of strategic pitch and effective network connections. The process begins with crafting a compelling pitch highlighting your app's unique value proposition, market potential, and revenue strategy. Good networking and generating connections from alma matters make it easier to deliver business pitches to investors.
A few important aspects, like a robust online presence, attending pitch competitions, and actively engaging with potential investors, are fundamental to attracting investors to your apps. A well-executed strategy and unwavering hard work can help you secure excellent and experienced investors who can help you grow your mobile app startups.
The following two tabs change content below.

HybridAppBuilders
Co-Founder & Director, Business Management
HybridAppBuilders help you find the best app developer for your needs. We believe in sharing knowledge and increasing awareness, and to contribute to this cause, we try to include all the latest changes, news, and fresh content from the mobile app development world in our blogs.

Latest posts by HybridAppBuilders (see all)