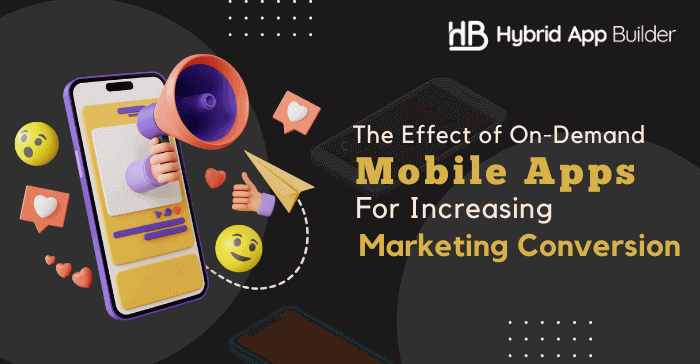 Are you looking for innovative ways to skyrocket sales for your businesses? Or do you need help streamlining your daily operations? Or do you need help to engage with your customers effectively? If yes, keep reading this blog until the end. This blog will explain the benefits of on-demand mobile apps and how businesses can leverage them for their help.
In today's fast-paced lifestyle, convenience has become critically important for our daily lives. The on-demand mobile app market has exploded in recent years. Today, it has become one of the most convenient ways for businesses to reach customers. These mobile applications allow customers to access their favorite foods, fashion items, healthcare products, and more.
But before diving deeper into the concept, let's look at what on-demand mobile app development is and why it has become so popular.
Ready to ignite your marketing success with on-demand apps?
Mobile Apps: The driving force behind marketing victories.
What is an On-Demand App?
An on-demand mobile application is designed to meet customers' specific needs instantly and with a quick delivery timeframe, usually within a few hours. These apps are customized in terms of functionality, design, and user interface as per the business needs.
For example, Uber is an on-demand app that allows users to book a ride and reach their desired location. Similarly, DoorDash is an on-demand food delivery app aggregating food service providers for customers to order from.
By now, you must have understood what are mobile apps. And the reason behind their popularity among end users.
Are On-Demand Apps an Excellent Investment for Businesses?
As a business owner, whether you must invest in an on-demand app will depend on several factors. However, it is worth noting that over 80% of businesses across various industries have already invested in on-demand apps due to their numerous benefits, which we have explained below.
Leveraging the Mobile Era
Leveraging the mobile era is a significant reason to invest in on-demand apps. In recent years smartphone users have been increasing exponentially. It is essential to create an on-demand app with custom features that can convert potential customers who use their smartphones.
Gateway to Unlimited Opportunities
An on-demand mobile app development also provides a gateway to unlimited opportunities. The app collects customer data to derive insights, notify customers about new offers, develop personalized relationships with them, and email market new products or services.
Return on Investment
Choosing the right development company that understands your requirements and suggests the best solution to achieve your business goals is crucial. Developing custom solutions with robust security measures for scalability promises the safety of user data. It offers value to customers while remaining flexible, resulting in increased ROI. Therefore, if done correctly, investing in an on-demand custom mobile app development company can be an excellent investment for your organization.
How do On-Demand Apps Improve Your Sales and Revenue?
Easy Accessibility
The ease of access is a vital factor for mobile apps' success. If your application is accessible to a broad audience, the likelihood of achieving significant sales increases substantially. Therefore, you must make your application easy to download by making it available on all popular platforms like Google's Play Store and Apple Store. A complex sign-in must be avoided, which will encourage the customers to use your application.
Personalization
Providing personalized service is the need of the hour. It helps businesses to improve customer satisfaction and make them feel special. It can help increase customer loyalty and significantly improve retention, the secret ingredient for the business's success. On-demand mobile apps are one of the best methods for a tailored solution. Companies can hire a mobile app developer to develop an engaging on-demand mobile app to cater to the needs of their customers.
Increased Brand Awareness
Brand awareness can help your business grow exponentially by enabling you to reach out to a broader section, leading to more sales and revenue. Brand awareness can create buzz about the product among the end users. As a result, they become familiar and convenient for them to access. Features like social sharing on-demand mobile applications come in very handy to increase brand awareness.
Improved Customer Experience
By resolving customer grievances in a shorter time duration, you can significantly improve the customer experience while they interact with your business. On-demand mobile apps come with various popular features like real-time tracking, on-demand customer support, and many more to reduce customer frustration and improve customer experience. This positive experience encourages customers to again interact with your business and are likely to become loyal to your brand.
Wrap Up
In this era of competition, businesses need to update themselves with cutting-edge technologies. It helps them to deliver personalized and unique experiences to customers. Opting to hire a mobile app developer for on-demand mobile apps can change how they interact weir customers. It provides helpful customer insights which can personalize products and services.
Driving more traffic to on-demand mobile applications ensures increased revenue for businesses. It also helps them to expand their customer base. One significant advantage of an On-demand mobile app is that it improves the efficiency of business operations. So, get ready and take your business to new heights with an on-demand mobile application. Hire mobile app developer of a top mobile app development company in USA.
The following two tabs change content below.

HybridAppBuilders
Co-Founder & Director, Business Management
HybridAppBuilders help you find the best app developer for your needs. We believe in sharing knowledge and increasing awareness, and to contribute to this cause, we try to include all the latest changes, news, and fresh content from the mobile app development world in our blogs.

Latest posts by HybridAppBuilders (see all)