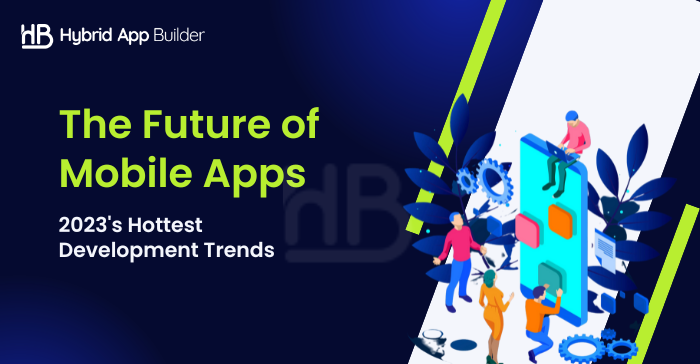 Are there 6.63 billion apps on the Play Store and the App Store? Those apps cover various categories, including games, music, lifestyle, business, finance, travel, weather, medical, shopping, sports, social media, and more.
So isn't it hard to get a mark in this crowded market? Yes, it is only when you're not abreast of new trends and keep working in the same old way. You must implement upcoming features and technologies. Have you noticed updates from even the established players like WhatsApp very often? They do so to keep pace with the changing technical landscape and give users the best experience.
Irrespective of whether you are considering fresh mobile app development or want to take your app to the next level, we've shortlisted a few of the trends you can't miss.
Why Is Keeping A Watch On Trends In Mobile App Development Worth It?
App development multiplies, so keeping up ensures all apps remain valid and competitive.
Users demand better performance, UI, and features. Relevant trends help meet these ever-increasing expectations.
Staying ahead with new technologies or design trends can attract more users and outperform competitors.
Following the trends leads to prioritizing efficiency and best practices, smoothing the development process, and reducing issues.
Always be informed about platform updates to maintain compatibility and bring out new features.
Rising Trends can help identify evolving security threats, further protecting user data and trust.
Adapting to AR, VR, IoT, and AI trends will help us through several innovative technological advancements.
Efficient practices and technologies can save development costs, mainly for startups.
Trends in gamification and personalization will keep users engaged.
Effective monetization methods will make sure to maximize app revenue.
Looking for trends to drive continuous improvement by gathering essential user feedback.
Key Trends In Mobile App Development
Trends keep on changing their way in app development. However, some key trends in mobile apps will flourish this year and in the coming years.
5G
The transition from 4G to 5G would heavily shape the internet world. Companies are now getting their hands on it to maximize their productivity. General people are also encouraged for this transition so that the usage evens out.
By 2024, around 47% of all devices will be on 5G. It presents enormous business opportunities for the app development market. The main reason for that high adoption is the high speed and network connection. Users can experience 100 times faster internet speed than 4G, along with one-millisecond latency compared to 50 milliseconds.
AR And VR
With the support of mobile app developers, Augmented and Virtual Reality can now provide an immersive experience to users. Organizations like Ikea, L'Oreal, and Lenskart have already started using these technologies to offer to their audience and receive the benefits.
Apple, Meta, and Google also implement this new trend in their products and services. Going one step ahead, Apple implemented LiDAR for its iPhone 12 Pro, Pro Max, and iPad Pro. LiDAR is called AR at the speed of light for capturing the best pictures from Apple products.
Artificial Intelligence
Artificial Intelligence is the new way of finding solutions to upcoming issues. AI is capable of making either a creative or a bland solution. It can also judge problems and solutions considering different criteria we put in. Integrating AI in mobile app development will elevate the procedure and make it dominant in the evolving market.
Chatbots
Platforms requiring real-time assistance to their target customers might consider using chatbots. These chatbots are an alternative to an assisting agent. These are powered by AI and trained according to the necessities of organizations.
They can be used on websites as a chat window where they will respond to customer queries. Very few apps utilize chatbots, which is growing at a CAGR of 23.3 %. In the coming years, we might see more apps using AI-powered chatbots for better customer experiences.
Super Apps
So, what is a Super App? It means that an app can do multiple tasks that people do through different apps. Integrating aspects like payments, social media, or food ordering in a single app will eliminate the hassle of maneuvering through various apps.
Have you noticed Facebook providing a marketplace or WhatsApp offering an online payment facility? These steps are all in making an app offering a wide range of services. Users don't need to download many apps for different tasks.
Apps For Foldable Devices
The new era of advancements in software development proves that there is at least a small share of the market for foldable devices. But these devices need adjustments for several daily-use apps. The apps require adjustment to larger screens, providing an immersive experience and multitasking.
It will enable users to work on multiple screens, which is highly beneficial for video streaming and gaming apps.
Machine Learning
Adapting to the latest user behavior takes a lot of work. This is where machine learning becomes a technological advancement, helping with identifying the necessities of each user and storing them for further processing of required decisions in an application.
ML will make users fall for the tweaking in an application concerning their usage behavior. It is wise to mention that the global ML industry is growing at a CAGR of 42%.
Blockchain Technology
Blockchain was a considerable technology trend powering the crypto boom. It has a huge role in mobile app development. It helps build decentralized apps to keep blockchain mobile wallets in easy access to the user.
This technology is powering decentralized apps that are in trend. Currently, 70 million blockchain wallets are present, and the number is only growing.
Beacon Technology
Beacon technology first came to the fore in 2013. Now, it's alive again, generating massive revenue in the retail sector. The beacons provide location-based information, which is easy to personalize.
The retail industry has experienced around 65 % growth through this technology as users can easily find the stores' needs smoothly. It works by sending Bluetooth low-energy signals to find stores nearby.
Wearable App Integration
Mobile app developers also focus on the apps required in wearables (smartwatches, trackers, fitness bands). More people love to wear intelligent wearables, which will help them not be distracted by other smart devices. Organizations must focus on creating a seamless integration between smartphone and wearable apps.
Cloud-Based Mobile App Development
Apps require a significant amount of memory no matter what feature is added in. Here comes the role of cloud-based services. Mobile app development can be integrated with cloud-based services like cloud computing. The apps can use the cloud space offered and not rely on the limited space of the primary device offered. It would provide innovative mobile app experiences.
Extended Reality
Extended Reality(XR) is a union of all immersive technologies like augmented reality(AR), virtual reality(VR), and mixed reality(MR).
Engaging with XR will help organizations create a multidirectional immersive solution for the customers and help them understand the values of that organization.
Touchless UI
Smartphones and other touchscreen devices offer a great experience where we can maneuver through different elements using touch points or gestures. The UI for touchscreens has already begun to reach its peak in advancements. However, all should consider understandability, accessibility, and comfort while implementing touchless UI.
As per Gartner's prediction, by the end of 2023, more than 50 % of businesses will start implementing touchless UI in their products.
On-Demand App Development
Organizations and businesses have a massive requirement for on-demand apps. What can these apps help out with? These on-demand apps will provide location-based information to the organizations so that they can adequately list the available activities that the client may be interested in and inform them by push notifications.
Low Code-No Code
Innovations would be complex to build up while keeping a good pace. The developers can now use existing frameworks and tools that will help them simplify the procedure and make up for the time.
The mobile app development would not face significant additional costs; the developers will have a good time using drag-and-drop editors and valuable APIs. This new trend will reduce the app development cost and time.
Conclusion
The mobile app development market is constantly evolving, and 2023 is no exception. So in this changing environment, organizations need to stay ahead of the curve by understanding emerging trends. They need to adopt new technologies and ensure they have a competitive edge.
Implementing these trends will improve an organization's ability to sustain itself in this competitive market. The more organizations focus on uplifting with new strategies, the better it will be for the market.
The following two tabs change content below.

HybridAppBuilders
Co-Founder & Director, Business Management
HybridAppBuilders help you find the best app developer for your needs. We believe in sharing knowledge and increasing awareness, and to contribute to this cause, we try to include all the latest changes, news, and fresh content from the mobile app development world in our blogs.

Latest posts by HybridAppBuilders (see all)