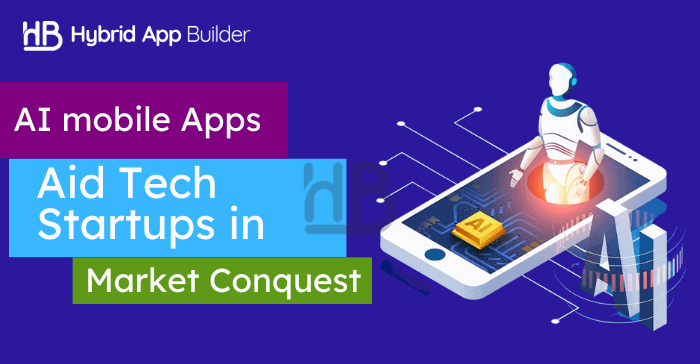 Artificial intelligence (AI) is the new buzz in the tech industry, which every business owner is trying to leverage for their benefit. It has the potential to substantially alter performance outcomes for any firm. As a result, the worldwide AI software industry is anticipated to grow to USD 126 billion by 2025.
Regarding the mobile apps industry, AI's significance and importance often increase. By implementing AI into the development process, companies have created innovative products like never before to enhance their customer experience. In the following years, AI will unquestionably rule the digital industry. If you also want to see how AI can help in the growth of the tech company, then read this article thoroughly.
"Unleash the power of AI-driven mobile applications and conquer your market like never before!"
Artificial Intelligence In Mobile Application Development
Artificial Intelligence (AI) is becoming increasingly important in mobile application development, with its worldwide market worth projected to exceed $89 billion by 2025. AI enables the development of innovative applications which can help companies meet the end-users expectations.
One of the key benefits of AI in mobile app development is that it can predict the shopping pattern of customers by analyzing their past purchasing behavior. By innovating their app, businesses can use this data to provide more personalized services. Thereby meeting the expectations of the end users, which can provide a competitive edge over competitors and helps business growth.
Enhance Mobile App Development Through AI
Artificial Intelligence (AI) significantly impacts Mobile application design and engineering, enabling developers to create more innovative apps. By leveraging AI, developers can incorporate features that predict user behavior and make informed decisions based on data, improving the user experience.
There are three main ways in which AI enhances software development for mobile devices: data, security, and analytics.
Leverage the Power of Data
In the world of digitalization, data analytics is a powerful tool that will determine the success of any application. For instance, in the case of a prediction app for marketers, the app's efficiency depends on the quality and quantity of data used to feed machine learning models to make accurate predictions.
However, according to a custom top mobile app development company, overwhelming the system with data can make it challenging for users to utilize the mobile app effectively. Therefore, developers must ensure that their app has the right type and amount of data for optimal performance.
Security is Imperative
Security is also a critical consideration when developing mobile apps. With the increasing reliance on digitization, companies must prioritize protecting their users' and clients' data. A safe, secure e-commerce application helps businesses acquire more customers by enhancing their shopping experience and building trust among end users. For instance, AI-powered applications can use image recognition features to validate users, which is ideal for eCommerce.
Leveraging Big Data
To support large-scale data, researchers are trying to find patterns in data. So that they can create descriptive and understandable models, machine learning and AI tools can extract data, making identifying patterns or correlations in large databases easier.
Companies can benefit significantly from using AI-powered mobile applications that handle large data sets. Different collection methods can also enhance app efficiency, as data collection can be challenging and require significant computing power.
Best Practices for AI Mobile Application Development
Selecting the Appropriate Code Editor
For efficient coding and commenting, a good code editor is essential. Sublime Text 3 is a popular choice as it offers advanced features like shortcuts, search, split, and a command palette, making coding more accessible.
Analyze Raw Data
Understanding your data is crucial for building training sets and improving your results. Only if you know the contents of your raw data can you provide accurate results. To enhance your model, you must update your algorithm, which is only possible through data.
User-Centric Approach
According to the best mobile app development services, the application's design must prioritize the user, giving them complete control. Ensure your design is straightforward and has the right features, eliminating redundant or unnecessary parts. Compliance with user requirements is also essential.
Use of the Python Dictionary
Maintaining an extensive data set efficiently is AI applications' first and most crucial requirement. And the best method to do this is to use a Python dictionary. Using this, developers can easily store and retrieve data, making them more efficient and accurate. Python directories also provide a dynamic and flexible data structure that helps developers add, modify, or delete key-value pairs. Additionally, it can represent complex data structures, such as graphs and trees, commonly used in AI algorithms.
Outcome
AI has a tremendous influence on the creation of mobile apps, making them more accurate, effective, and user-friendly. Integrating AI can help businesses to evaluate enormous volumes of data in real time and come to informed conclusions. By providing distinctive and cutting-edge features, AI can also assist businesses in standing out in a very competitive app market.
Thus, businesses must hire mobile developers to create AI-powered mobile applications to meet user expectations to stay ahead in this competitive era. Ultimately, users and businesses can benefit from implementing AI in mobile apps, creating a win-win situation for all.
The following two tabs change content below.

HybridAppBuilders
Co-Founder & Director, Business Management
HybridAppBuilders help you find the best app developer for your needs. We believe in sharing knowledge and increasing awareness, and to contribute to this cause, we try to include all the latest changes, news, and fresh content from the mobile app development world in our blogs.

Latest posts by HybridAppBuilders (see all)