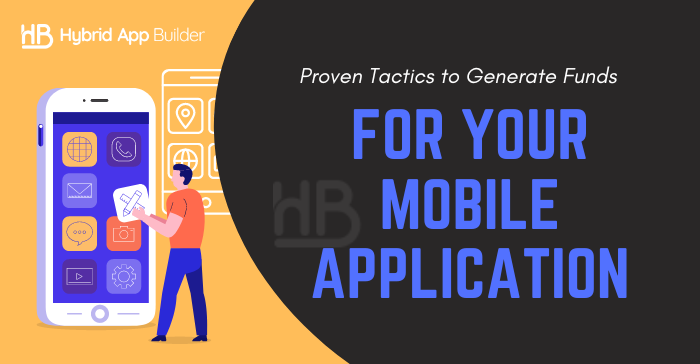 New entrepreneurs looking to develop and launch mobile applications often need help securing adequate funding. While traditional funding methods like self-funding, debt, and family/friends are excellent and supportive options, mobile app entrepreneurs may use many innovative approaches to raise money for their apps in this digital age.
Studies show that only 35 % of startup apps remain in the market beyond ten years in the USA. For them, funding is a significant root cause. So whether you're starting up or already at the break-even point, a consistent flow of funds is a must to survive in the long run. So, what are those ways to get the funds? In this blog, we'll delve deep into funding.
What Is Mobile App Entrepreneurship?
The idea of mobile application entrepreneurship may sound new to some people. It is creating, developing, and managing a business associated with mobile apps. Mobile app entrepreneurs working on a mobile app project develop the mobile app and conduct market research for the industry, create business plans, and choose monetization ways to generate revenues.
Successful entrepreneurs combine creativity, business skills, technical knowledge, and a deep understanding of their target audience to navigate these challenges and build thriving app-based businesses.
Stages Of Funding For Mobile Application Entrepreneurship
Can the funding requirement for a new mobile app and an established app looking for expansion be the same? No! There are many stages of funding. Anyone needs to know while looking for how to start a mobile app business.
Pre-Seed Funding
As the name suggests, this funding stage denotes when you have an idea for a mobile app with no substantial things to prove. Getting funds from established investors is challenging at this stage, as you will need something to showcase and prove your worth to those investors.
So, family/friends and self-funding is the best option here.
Seed Stage Funding
It is when you are ready to showcase your worth with the team, demo, research data, MVP, and more. You use the initial funding to get started and look for more funds to establish and expand. In this stage, angel investors, early-stage venture capitalists, and high-net-worth people can help with funding.
Series Funding
As you get on the path to success, the fund requirement may keep coming. Businesses need this for scalability, marketability, and any other purposes.
There are many series funding, namely Series A, B, C, and D. Mobile application entrepreneurs decide how to raise funds through these series. What if you still need funds after Series D funding? In that case, businesses can go for an Initial Public Offering (IPO) and other ways to raise funds from the public.
Innovative Ways To Raise Capital For Mobile App Entrepreneurs
Crowdfunding
This method is getting help from people by showcasing your creativity and ability to serve the public. People who believe in your idea come forward and invest with or without financial benefit.
Angel Investors And Venture Capitalists
These are considered as one of the great options for heavy money infusion into your mobile startup. These investors can provide funding to early-stage companies.
Virtual Demo Days
Using virtual demo days, you can raise funds for mobile apps. Entrepreneurs showcase their products or ideas to potential investors, industry experts, and a broader audience. These startup events are an opportunity to gather investors from around the world to participate without geographical constraints.
Online Pitch Competitions
These are significant virtual events for mobile app entrepreneurs to present their startup ideas and get funding from across the globe via the Internet. Online pitch competitions have gained popularity due to their accessibility and the ability to attract a diverse range of startups from various locations.
They offer startups an opportunity to gain exposure, secure funding or grants, and establish connections with potential investors or mentors.
AngelList And Online Networks
AngelList is an online hub for startups and entrepreneurs, connecting early-stage companies with angel investors. Online platforms for angel investment have options where mobile app developers enlist their ideas and demos to raise funding for the app. Platforms like LinkedIn and industry-specific forums facilitate networking, knowledge sharing, and collaboration.
Initial Coin Offerings (ICO) And Security Token Offerings (STO)
ISO and STO are valid for fundraising for mobile app entrepreneurs in this digital age. ICOs involve the sale of digital tokens representing future utility within a project. STOs offer security tokens backed by tangible assets or company equity.
Both these methods have significant involvement in boosting the entrepreneurs to raise funds for their projects. It also instills confidence in other investors investing in the same startup.
How Can Mobile App Entrepreneurs Gain The Trust Of Their Investors?
Get To Know The User's Need
Conduct market research as it helps you identify and point out the problem your app could solve and meet the users' needs. Understanding the potential user's needs and wants can help you customize the mobile app's features to meet the expectations and result in customer retention and success.
Once you have that information, gaining investors' trust becomes easy. In 2023, app entrepreneurs are in a very competitive area. It will help you make your app unique and attract users who need help with similar mobile apps.
Having A Right Monetization Approach In Place
While most apps try to avoid directly asking their users to pay and provide a free version with limited features and proceed to extra premium features in the paid version, many mobile app users back out when they see the pricing.
Explore various monetization approaches, from in-app advertising, native ads, freemium subscriptions, and in-app purchases to affiliate marketing, to settle on the best.
Building Strategic Partnership
A strategic partnership is a holy grail in the extensive list of "How to create an app business" checkpoints. It has all the ingredients to provide sustainable business growth and helps gain proper resources, customer expertise, and opportunities that might be challenging to attain independently.
Building an effective strategic partnership starts with identifying the objectives, which are the user base, enhancing app features, accessing new markets, or securing funding.
As soon as you set the objectives in place, the next step of every mobile app developer is to align their goals with the demands of the targeted audience. These partners can be industry leaders, complementary apps, or companies with a similar user base.
Contacting potential partners helps you form a strong relationship and develop clear partnerships with related organizations. Collaboration efforts can include joint marketing campaigns, cross-promotion, product integration, and resource sharing.
Bottom Line
Digital platforms bring an indispensable way for app entrepreneurs seeking to raise capital. In the fast-paced and competitive world of entrepreneurship, these methods empower entrepreneurs to convey their app's value proposition effectively.
Crowdfunding, ICOs, STOs, and DeFi lending offer novel ways to access capital and engage early adopters. Strategic partnerships with established companies provide funding, invaluable resources, and market reach. Using these innovative approaches, mobile app entrepreneurs can secure the capital needed to turn their visions into reality and thrive in the ever-evolving digital landscape. Do you still need clarification on how to start an app business and raise capital for your mobile app? Get in touch with our expert team!
The following two tabs change content below.

HybridAppBuilders
Co-Founder & Director, Business Management
HybridAppBuilders help you find the best app developer for your needs. We believe in sharing knowledge and increasing awareness, and to contribute to this cause, we try to include all the latest changes, news, and fresh content from the mobile app development world in our blogs.

Latest posts by HybridAppBuilders (see all)