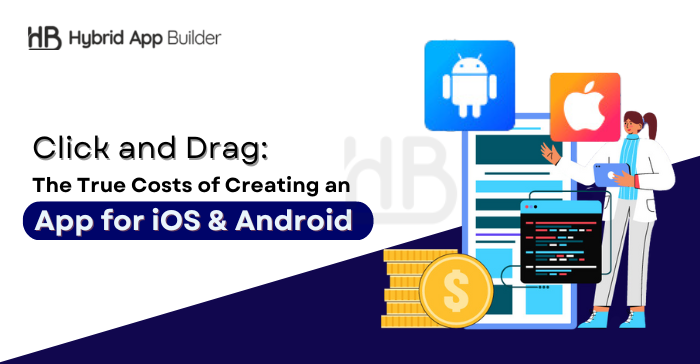 Mobile apps have gained such popularity that nearly 90% of mobile internet data is spent on apps. Approx 70,000 new Android apps get released every month on the Play Store. Most mobile users have more than 80 apps on their smartphones.
Apps are game-changers and constant companions for all tasks; their demand knows no bounds! Apps are a big part of our lives, from playing games to detecting illnesses to running a business and whatnot!
Investing in apps is a fruitful decision with the growing demand and dependence on mobile apps. But demand and price go hand in hand! Generally renowned for making our lives simpler, building an app may or may not be financially simpler. Here is a detailed blog on the cost for building an app.
Why Mobile Apps For Businesses?
Having a mobile app benefits the business in novel ways. Marketing and advertising are the foundations of any successful firm. Because it is the world of apps, mobile applications relevant to your business may assist in expediting marketing and raising the pitch level.
User familiarity with your business increases with the number of people who use your app. And if that happens, there is a high probability of users interacting and bringing business for you. Your personalized company app would be an extremely potent marketing tool!
On the ground level, a customer loves to use mobile apps. It has been observed that apps provide the consumer with a sense of privacy and a one-on-one connection with the company, which may significantly increase client loyalty to your organization.
New and inventive applications would pique their interest in your endeavor more personally, resulting in a positive attitude and promoting your business by converting more consumers into clients.
A business can only develop brand value if it understands customer psychology, wants, desires, and expectations, which are summed up as data about a consumer obtained with the help of mobile apps. Before pitching a consumer, data research is critical for a venture to target the appropriate individuals with the product that best matches their requirements.
How Do Mobile Apps Get Monetized?
The technique of getting user revenue is known as app monetization. App monetization techniques are variable; however, most effectively monetized applications include numerous distinct monetization strategies.
Paid Apps: In this model, users pay an upfront fee to download/install the app from the app store.
In-App Purchases (IAP): Apps lure users with premium features, and they can purchase within the app. You must have seen extra lives in games, premium filters in photo-editing apps, or the unlocking of advanced features in many apps.
Sponsorships And Partnerships: Apps partner with brands or other businesses for sponsorships or collaborations. They also promote third-party products or services, known as affiliate marketing. This means you can recover a good amount of cost for making an app.
Freemium Model: Have you noticed apps offering basic versions initially and asking to pay for premium features? This is a freemium model quite prevalent in the mobile app market.
Subscription Model: Users pay a recurring fee (weekly, monthly, or annually) to access content, services, or features within the app.
Advertising: Apps display ads for revenue from advertisers. Be it banner ads, interstitial ads, video ads, etc, all the popular apps with a large user base earn significantly through this way of advertising.
Data Monetization: Some apps sell user data to third parties. Those third parties use the data for market research, analytics, or targeted advertising.
The Process Of Mobile App Development
Developing A Strategy
Strategic planning is the basis for success in any venture. Strategy for producing an app comprises learning about the app's objectives, looking for competitors, assessing the amount of competition, determining a platform or server appropriate for the type of app, and accepting the financial parameters of developing an app.
Once you have a strategy, it represents a road map for the app development process and determines the cost for developing an app.
Analysis Of The Target Audience
Identifying the skills required for your mobile project is a part of the analysis and planning process. You'll need skilled iOS developers if you're creating an iOS app.
To create a cross-platform program, you'll need a team with knowledge of technologies and tools. Hence technological planning is another step in developing an app.
UI/UX Design
Creativity is always admired and valued. A boring app will not acquire popularity, but a unique and vibrant app with a proper design according to the objective of your app is bound to grab a user's interest.
Mockups, prototypes, graphic designs, and other aspects that improve and draw attention to your app are crucial. A style guide is also included in this phase, where you choose the most appealing fonts, language, and color schemes for the app to reach more consumers.
Work On App Development
The backend and front end of an app are the two most important aspects while determining the cost for developing an app. The back end contains databases and server-side information, whereas the front end includes data that the user will connect to or come into contact with. Both of these tactics enhance the app's performance and boost its rating.
Testing And Scrutinizing
It's time to put your app through its paces and look for flaws, bugs, and other issues! According to experts, app development companies must ensure the app goes through these three testing types before release.
Functionality
Examine your app's features to confirm that everything works properly.
Performance
A mobile app development company must pay attention to your app's adaptability and how it keeps track of increased users simultaneously during performance testing.
Security
Data protection and privacy are critical when developing corporate solutions such as healthcare apps or apps that collect personal data and operate in highly regulated sectors.
Maintenance And Monitoring
Your app has gained momentum, but continue! Wait! Check your app regularly and monitor whether it is performing optimally.
Remember to hunt for bugs or glitches. How many users downloaded the app? How many of them are active? Who visited the app? What ratings or reviews did the users give your app?
Ask your database and app these questions by evaluating the data analysis and report to get an idea of your app's reputation. After all, you must make your app smarter, better, and faster in this market!
Now, let's proceed to discuss the cost for developing an app.
How Much Does It Cost To Have A Mobile App Developed?
Understanding your requirements is essential to determine the precise cost of developing a mobile app. The estimated expense typically falls between $25,000 and $150,000, while complex, specialized apps might reach around $300,000.
The term "probable" is used due to the variability in app development costs, making exact figures challenging to predict.
Now, let's proceed to discuss the cost for developing an app.
Factors Affecting The Cost For Developing An App
App Complexity
The cost of app building depends on a complexity factor. A highly complex app can make you pay around $100,000 to $300,000 and above since it contains advanced technologies, enhanced prototypes, and a high quality of value. However, an averagely complex app can require an expenditure of $50,000–$120,000.
A simple and basic app includes features like social media integrations, payment gateways, user privacy, etc., and a $5000–$50,000 price range.
Animations And Graphics
Animation and graphics have become increasingly common in gaming and social networking apps. It plays a significant role in the overall cost of developing an app. Developers use this to make specific program features exciting and understandable.
Performance, Security, And Other Aspects Of App
While internal aspects are vital, how an app performs is also a factor in determining the app's pricing. An app with a generally faultless system may be costly, but an app with faults or problems may be less expensive.
Type Of App
Here are a few categories of apps and the costs that accompany them.
Social Media Apps: Approximately $60,000–$300,000
Marketing Apps: Approximately $300,000+
IoT and Hardware Apps: Starting at $60,000+
Streaming Apps: Approximately $60,000+
E-commerce Apps: Approximately $60,000–$300,000+
Healthcare apps: Starting at $60,000+
Additional Internal Factors
Other factors that affect the cost for developing an app include
Quality of the app
Technological advancements used
App publishing costs
Security costs
Maintenance costs
IT support expenses
Size of the app
Wrap Up
Did you get the answer to your question on the cost for developing an app? You got a fair idea but a different answer. Here, the point is determining the cost varies, and you can only get the actual price once you're done with all it takes to develop the app that you vision.
Mobile apps are the future, and delaying the decision to have it might cost you dearly. So start the groundwork, and you will rock the world with the finest apps.
The following two tabs change content below.

HybridAppBuilders
Co-Founder & Director, Business Management
HybridAppBuilders help you find the best app developer for your needs. We believe in sharing knowledge and increasing awareness, and to contribute to this cause, we try to include all the latest changes, news, and fresh content from the mobile app development world in our blogs.

Latest posts by HybridAppBuilders (see all)