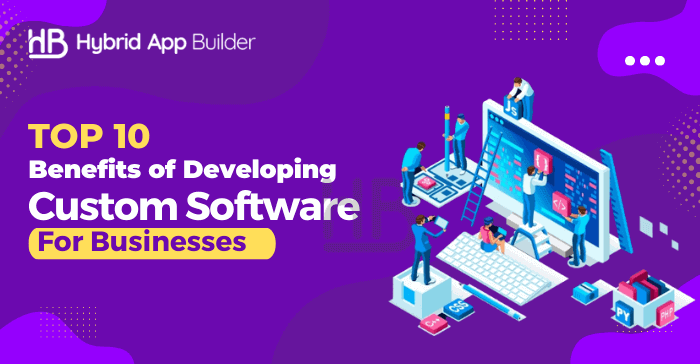 It's hard to imagine a business thriving without software. Various enterprise applications can manage diverse resources, such as automating process workflows. 'Off-the-shelf' apps cannot match today's diversified business expectations.
Naturally, businesses of all sizes require custom software development solutions that suit their unique needs. Still, it's not always easy to decide before investing in custom-made software is not always easy. Often, businesses get stuck with questions like:
Is custom software the right choice for the company?
Isn't it better to invest in ready-to-use software?
What are the benefits of custom applications?
Can application developers develop the software I need?
This blog highlights the numerous benefits of custom software solutions over ready-to-use ones. Let's start exploring the top ten advantages of custom software to help you decide!
#1 Personalized Software Build For You
One of the main advantages of custom software development is having software that perfectly fits your business workflow. Unlike any ready-to-use software, the custom application provides a range of features and services your business requires. With customized software, you can fulfill all your business needs and establish a leading position in the market.
#2 Guide the Development Roadmap
Once you hire application developers, you convey your vision of the app. They follow your imagination to create the ultimate development roadmap. You can prioritize features and functions during development to ensure the software remains relevant.
#3 Cost-Effectiveness with Higher ROI
At first, you might think that investing in custom software development is costly. But, think for a long run. Once the software is built for you, you can use it in the long run to generate higher ROI (Return on Investment). Later, you can optimize software features with minimal investment and keep using the same software!
#4 Software Responsiveness
The customized software is fully-responsive. It runs on any device and platform, regardless of the operating system and display size. It's pretty convenient as you and your team can use the software even from a mobile. Plus, the application has no limits on the maximum number of users. So anyone can access the resources anytime!
#5 Scalable & Flexible Custom Software Development
Custom software is easily scalable and flexible to adapt to the ever-changing market demands. Only scalable software can support higher workloads. Hence, you must update it with new features and capabilities.
#6 Seamless Application Integration for compatibility
You can easily integrate custom software with third-party systems and applications. It promotes a seamless workflow across the organization. Additionally, well-integrated software offers real-time visibility of various business operations. It also helps to improve efficiency and reduce manual intervention. This ultimately leads to cost savings and increased productivity.
#7 High Security and Reliability
One of the top 10 advantages of custom software is that it offers top-notch security of application data as user data. Unlike other off-the-shelf apps, custom-made software is reliable that protects sensitive data will its continuous monitoring system. It tacks user usage, detects cyber thefts, removes potential spam content, and implements industry-set compliance standards.
#8 Custom Software Has No End Life
Most off-shelf software becomes outdated quickly as they reach its end-life faster. Businesses get stuck with unsupported software. Custom software is the business's responsibility to maintain and upgrade it. That helps the software stay compatible with the newest hardware and OS versions.
#9 Continuous Support & Maintenance
One of the top benefits of custom application development is dedicated support and maintenance given by the Development Company. If your software encounters any issues, the professionals provide technical support immediately. It helps to maximize the investment value and reduce the associated risks with outdated software. As a result, the software performs as expected in the long run.
#10 Ease of Use With Minimal Technical Knowledge
The Development Company creates, implements, and releases custom software for enterprises. Hence, you don't have to take of the software implementation processes. The development team also integrates the custom-made software with other systems for you. They also provide you with demo training on how to use the software functionalities in the future.
Final Thoughts
Indeed, custom software development offers many advantages over other off-the-shelf software solutions. But, enterprises can only face a few disadvantages if they research what type of software their business needs. Businesses can receive personal attention to their software needs by partnering with the top Custom Software Development Company. So it's best to receive an expert's guidance before investing in custom software!
The following two tabs change content below.

HybridAppBuilders
Co-Founder & Director, Business Management
HybridAppBuilders help you find the best app developer for your needs. We believe in sharing knowledge and increasing awareness, and to contribute to this cause, we try to include all the latest changes, news, and fresh content from the mobile app development world in our blogs.

Latest posts by HybridAppBuilders (see all)