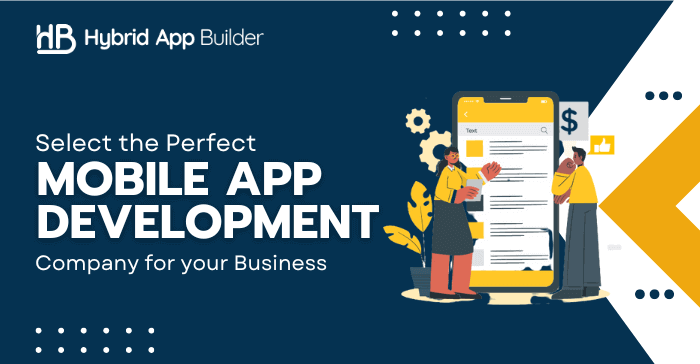 Our everyday lives now revolve around on-demand apps, from ordering lunch to hailing a car. We all love using these apps due to their simple user interface and comprehensive features. With high demand and likeability, enterprises remain eager to invest in these apps by contacting the best mobile app development company to improve their user experience and maintain market competitiveness.
However, finding the right company which can transform your vision into reality takes a lot of work, primarily due to the availability of hundreds of companies. As the opportunities are high, it is a must to consider several criteria before choosing. This blog will review the crucial factors to consider when picking an on-demand app development company.
"Together, let's craft a fantastic mobile app that stands out on every screen."
What Are On-Demand Apps?
It is a model built on providing customers with services or products as and when needed with the help of app development companies. It is opposite to the traditional model of scheduled or recurring delivery. The on-demand business model is a concept that has gained a lot of traction in recent years thanks to the growth of technology and the internet.
Whether you're an entrepreneur or a business owner, understanding the power of these new trends of on-demand apps can help you tap into new markets and grow your business. By downloading the app, customers can easily select the service they need and receive it within a few minutes or hours. If you have yet to realize the power of these sorts of apps, a mobile apps development consultant can help.
Hire the Best Mobile App Development Company: Checklists
Do they have expertise and experience in similar app development
Knowledge and experience are the most critical factors when selecting an on-demand app development business. Finding a business having a superb track record in creating profitable on-demand apps is vital.
The difficulties and needs of such apps are better understood by a business specializing in on-demand app development. To learn more about the kind of applications they have created and their level of success, check out their portfolio. Additionally, you may look at their ratings and client reviews to learn more about how well they function.
Do they offer maintenance and support after the app launch?
You will need to maintain and support your app after its launch. So choose wisely; otherwise, you might need to hire app developer later on for continuous support and maintenance services.
The selected app development company must proactively address any problems or hiccups. They should deliver timely updates to update your app on recent technological developments. They must have specific staff to manage these services and guarantee that your app functions correctly.
Have they worked on the technology stack that you're looking for?
Competent native or hybrid mobile app development company remains well-versed in various technologies, including programming languages, databases, and mobile frameworks. They possess knowledge about cutting-edge technology that can enhance the usability and experience of your app.
Ensure a firm has expertise in the newest technology stack before selecting them. A business knowledgeable about the most recent technologies may offer a scalable and reliable solution for your needs regarding on-demand apps.
Is your budget aligned with their charges?
Several variables, including features, functionality, and complexity, affect the cost of designing an on-demand app. Knowing exactly how much money you have set aside for your app development project is crucial.
It might help in finalizing a mobile app development company matching your budget. However, you should select the company based on something other than pricing.
A company's quality and usefulness may suffer if you only choose them for their competitive cost. So look for a company providing a suitable combination of price and quality, offering value for money.
Can they complete the project within timelines with proper management?
Timelines are critical when creating applications. The firm should offer a realistic timeframe and follow it. Give top priorities to communication and up-to-date reporting on the project's status. It will help you to finish your job within the allocated time frame.
Are they good in communication and support
How can anyone ignore effective communication while choosing a cross-platform mobile app development company? Find a company developing on-demand apps that values communication and provides prompt customer service. They should remain available to answer any questions, complaints, and feedback you might have during the project.
It becomes easier for a company to understand your needs and deliver the right results with a clear communication plan. You should get regular access to information and play a role in decision-making.
Do they have robust security and privacy structures in app development?
Undoubtedly, On-demand applications handle secure consumer data. Selecting a firm that places a high priority on security and privacy is vital. They should establish safeguards to secure user data from any possible breaches.
In addition to abiding by data protection rules, they should adhere to industry-standard security procedures.
Ending Remark
Your mobile application development company choice may significantly impact your app's success. Narrow down your list of candidates by considering the abovementioned characteristics and selecting the ones most suitable for your needs.
Doing due diligence and extensive study is crucial before reaching a final decision. By selecting the best mobile app development company as a partner, you create an on-demand app that satisfies your company's needs and consumer expectations.
The following two tabs change content below.

HybridAppBuilders
Co-Founder & Director, Business Management
HybridAppBuilders help you find the best app developer for your needs. We believe in sharing knowledge and increasing awareness, and to contribute to this cause, we try to include all the latest changes, news, and fresh content from the mobile app development world in our blogs.

Latest posts by HybridAppBuilders (see all)