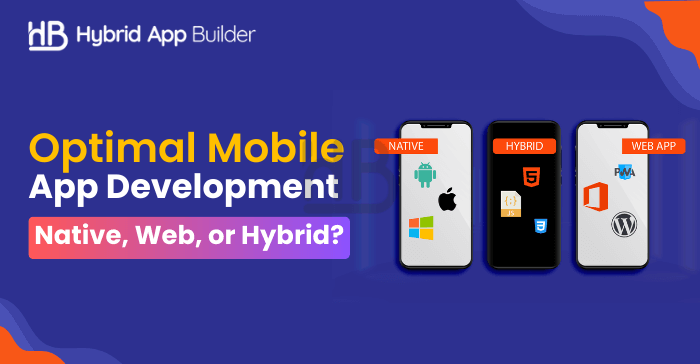 Let us start this blog by giving some consolation to you in case you find it hard to choose the ideal mobile app for your business. It is common to feel confused while choosing mobile app development types as target audience, budget, timeline, app requirements, and desired user experience varies from business to business.
Mobile apps have become indispensable companions in today's fast-paced world. They seamlessly bridge the gap between loved ones, enhance productivity and what's not. As a business, you know the transformative potential a mobile app can unlock. Navigating multiple app development options takes time and effort.
So what is the way forward? The best way to have an exhaustive idea of various types of apps and how to choose the best one suitable for you.
Different Mobile App Development Approaches
Native Apps
Native Apps are platform-specific apps such as iOS, Android, and Windows. If you have the resources to develop separate apps for different platforms and require high performance or access to native functionalities, native apps are a good choice. Google Maps, Pinterest, and Spotify are some of the best native apps.
Pros And Cons Of native mobile app development
| Pros | Cons |
| --- | --- |
| High performance & responsiveness | Higher development and maintenance costs |
| Full access to device features | Platform-specific development required |
| Rich user experience & customization | Longer development time |
| Enhanced security and data privacy | App store approval process and guidelines |
| Enhanced UI/UX capabilities | Potential compatibility issues |
| Offline functionality | Separate development for different platforms |
Web Apps
Web apps are mobile-optimized apps running on websites. Users access them through their mobile browsers. The best Mobile app development company develops web apps using HTML, CSS, JavaScript, and other languages.
Web applications are very easy to maintain. As users access them through a web browser, developers can update them instantly without downloading and installing new software.
Pros And Cons Of Web Application Development
| Pros | Cons |
| --- | --- |
| Cross-platform mobile app development | Dependence on Internet connection |
| No installation required | Limited access to device resources |
| Centralized data and updates | Limited offline functionality |
| Easy updates and maintenance | Performance may be slower compared to native apps |
| Lower development and deployment costs | Limited UI/UX customization |
| Reduced device storage requirements | Limited control over app distribution |
Hybrid Apps
Hybrid apps are more like web apps with a feel of native through responsive design, offline function, fast performance, and more. Hybrid app development companies mainly use Ionic, Objective C, Swift, and HTML5. Some leading hybrid apps include Instagram, Gmail, Evernote, Amazon App Store, Microsoft Teams, Instagram, and Twitter.
Pros And Cons Of Hybrid Mobile App Development
| Pros | Cons |
| --- | --- |
| Single codebase for multiple platforms | Limited access to device features |
| Lower development and maintenance costs | Dependency on frameworks and plugins |
| Access to device APIs through plugins | Poor user experience |
| Quick to develop | Reliance on Web technologies |
| Improved development efficiency | Compatibility issues with certain devices |
| Faster development compared to native | Limited customization options |
How To Choose The Best Mobile App Development Approach?
Know Your App Requirements
You need to know your niche. In every segment, there could be 100 + apps trying to solve problems with different mindsets. So know your purpose, functionality, target audience, and critical features. You must make a robust app with clarity on the road ahead.
Evaluate Development Resources
What if you want a travel app like Expedia but need more money, time, and expertise? This is problematic, isn't it? So to avoid it, know what you have and how to achieve the best. Yes, you may outsource the task to any good native, web, or cross platform mobile app development company, but that will come at a hefty cost.
Consider Target Platforms
This step doesn't hold much importance when you plan to go big at once. However, launching iOS, Android, and Windows apps altogether involves using high resources. If you have a limited budget, tight timeline, or no clarity on how the users will respond, target a single platform initially and make it profitable.
Think About After Launch Updates
Millions of apps are available on the Play Store and App Store. What do you think – are all used? No, a vast majority of apps are lying idle due to non-maintenance or non-compliance to guidelines from Apple and Google.
As per custom mobile app development experts, native app development frameworks are the most challenging to update after launch, whereas web apps are the easiest to update. So consider maintenance costs, especially with native apps, as each platform requires separate maintenance efforts.
No Compromise On Security Risks
Fragile server-side settings, data leakage, and insecure transport layers may become catastrophic for your apps and business. So it's better to prioritize at the mobile app development stage to avoid any sort of resentment. Work on solid authentication, adequate transport layer security, proper data transmission, and more security measures for iOS, Android, and Windows apps.
Which One Will You Prefer For Your Business?
Hard! It's easier for anyone to determine the best app types for you with a sneak peek of your app idea. The best way forward is to contact the top mobile app development company having expertise in the design & development of various mobile apps.
In short, focus on budget, time, functionality, user experience, and target audience. To make the best decision, it's essential to dig every mobile mobile app type – advantages & disadvantages.
The following two tabs change content below.

HybridAppBuilders
Co-Founder & Director, Business Management
HybridAppBuilders help you find the best app developer for your needs. We believe in sharing knowledge and increasing awareness, and to contribute to this cause, we try to include all the latest changes, news, and fresh content from the mobile app development world in our blogs.

Latest posts by HybridAppBuilders (see all)