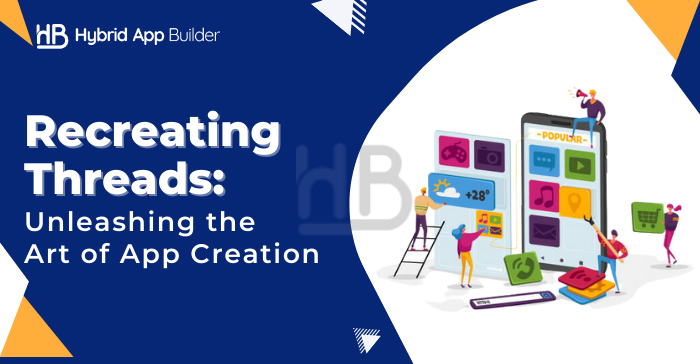 The sudden record-breaking popularity of Threads after the Meta CEO Mark Zuckerberg's official launch on July 5th has caught the eyes of many mobile application developers and businesses. Within a few hours, almost 10 million people downloaded this application on their phones and signed up for this new Instagram-linked text-based application.
Threads is a social networking service under the Meta Platforms which was launched closely linked with the Instagram handles. Building an app like Threads can captivate the users in this trending market and presents a golden opportunity for businesses to make a go-to social media mobile app just like Thread.
We have everything covered in this article, from breaking down the story of how Threads rose to immense popularity and shattered various records to how developers can seamlessly craft a similar app with identical or better features. So hold on tight!
What Are Threads, And Why So Hype On That
After Twitter was acquired by one of the most influential business tycoons, Elon Musk, project developers, and employees of Meta ventured into avenues to make a social media network application just like Twitter in October 2022.
Soon came out the feature of notes on Instagram where every Instagram account holder could post a note that would be visible to their followers for 24 hours in December 2022.
As most tech enthusiasts refer to, the "Twitter killer" app Threads started to be developed into a separate app focused on text-based posts in January 2023. Threads launched on July 5th, 2023, have been made available to 100 countries but have delayed launch in the European Union for clearance from European Commission regulatory.
Under the code name "P92" or Project 92, Meta had been trying to create a buzz through multiple sources like Chris Cox, the Chief Product Officer of Meta, tweeting about the Project 92 launch and celebrity talk shows with Oprah Winfrey and Dalai Lama.
Understanding The Popular Trend Of Text-Based Social Media Apps Through Business Perspective
The tech market has experienced a rise in text-based social media apps since people shifted their online communication and interaction modes. Most apps resonate and resemble the same features to meet the needs of modern users.
Focus On The Purpose
Text-based apps focus on clear and concise communication and remove the distractions of multimedia-heavy platforms. By doing this, those apps make it easier for people to interact and express their thoughts and ideas through words.
Privacy And Anonymity
Most text-based apps developed today offer users a high level of privacy and security, allowing them to keep their data a secret from global platforms by not revealing their true identity.
This gives most users confidence and freedom of speech on these applications where they can speak their minds.
Better Mental Health
World has experienced a lot since Covid-19 struck globally, and mental health issues have been a big concern.
Text-based apps have made it possible to help many in need and help all speak out about their problems, where the internet community is here to help them out even if they do not know each other.
The text-based social networking service trend is fast-paced in the digital landscape today and has a potential future for growth to even more new peaks.
How Does Threads App Work?
Thread is beautifully designed and aims to provide users with a similar experience Twitter has provided for many years.
Threads come with a lot of features that are common in most text-based applications. The developers have prioritized public dialogues over private communication in this. The key features of Threads are as follows:
Users are allowed to link their Instagram handles with their Threads account for microblogging.
Users can not only create posts with a limit of 500 characters of text, but the posts can also include videos of 5 minutes.
A user can easily edit and translate the post into multiple languages.
Thread comes with a highly improved user interface.
Threads has strong community guidelines similar to Instagram, which ensures to ban all explicit content, including nudity, vulgarity, violence, and recreational drugs.
This Meta service application is available for mobile clients for Apple's iOS and Google's Android platforms.
The developers at Meta have also developed a front-end web view for users to access profiles and posts, although it lacks log-in and view app timeline features.
Is It Worth Investing In Text-Based Social Media Apps Like 'Threads'?
This is an excellent time in the tech market to invest in a text-based social media app like Threads since it's a golden opportunity for a triumphant return in the future. Today's digital landscape supports unique platforms, offering unique advantages to users.
Niche Target Audience
Text-based social media applications help cater to a specific audience with more intimate and authentic connections.
Most businesses can improve their focused user base to target niche markets and build engaged communities around the products or services. Understanding the proper interest of the users, most organizations can craft personalized social media products to engage their users.
Improved Social Networking Experience
Most users expect refined and improved social media networking with every new text-based app launched.
A clutter-free interface and enabling users to connect with like-minded friends over the platform help your App grow even further and become famous.
Privacy And Trust
Regarding social media, where every user's data is at stake, privacy is a growing concern.
Text-based App provides a safer and more trustworthy environment that attracts more users to text-based social media platforms. Assuring customers the data privacy and security leads to customer loyalty and a positive user retention effect.
Market Growth Potential
Market growth potential drives the increasing internet penetration, smartphone adoption, and growing interest in replacing all forms of interaction with online interaction.
In this digital world, social networking is a part of daily life. Apps like Threads flourish and capture a substantial user base since it is an opportunity to cater to users' privacy, authenticity, and interests, making it a promising investment area.
Cost-Effectiveness
Usually, text-based apps require less investment for content creation compared to photos or heavy media platforms. For businesses with limited marketing budgets and teams, text-based apps are an opportunity to connect with their audience and make significant cost productions.
Diversification Of Marketing Channels
Investing in a text-based application allows businesses to diversify and reach out to audiences on a broad scope beyond traditional platforms. Adopting a multi-platform approach will help businesses grow and bring in investment returns effectively.
Insights And Data Analytics
Getting insights and data analytics has become more accessible with text-based social media platforms, which helps organizations understand products and if their potential customers like the new developments. This investment helps get insights and data to improve market strategies and make informed decisions on other investments.
How To Build An App Like Threads?
Making an app like Threads is excellent if you have a well-structured plan. Moreover, a talented development team and an understanding of features and functionality are also required. Hiring programmers with prior experience developing such social media apps would help you incorporate your App.
Define Your Business Requirements
First, define the objective of your App. In simple words, define what features you want to offer through your App to your target audience. You should prioritize features like messaging, community creation, and integration with existing platforms.
Try to add more attractive and attention-gaining features within your budget.
Conduct A Market Research
To give attractive features within your budget, conduct market research first to understand customer preferences, then look at the offerings of competitor apps. Finally, follow the trend to recreate your App's "sign-up" wave.
User Experience And Design
After selecting the features you want to offer, map out the functionalities and technicalities of the App.
Engage a full-stack developer to create a UX/UI design that meets the goals of your app. It is a crucial task to resonate with your target audience. Making an app like Thread to catch the trend is complex.
People are always attracted to user-friendly interfaces with good layouts. Considering this fact, make your App's layout, color scheme navigation, and overall design user-friendly and attractive.
Technical Architecture
Good architecture deserves top priority on your list of things to do for an app like Threads. Good technical architecture is easier to debug, test, and understand. When designing your application's architecture, you should consider scalability, performance, and security.
All successful apps now running on iOS and Android are the results of the manual labor of developers. Hiring React Native app developers is better for developing the best technical architecture.
Feature Development
The cost of developing such an app is majorly based on the features you add. If you want to build an app like Thread, then take inspiration from the core features of Thread and combine them with your objectives and budget.
Allow users to share text, links, photos, videos, community creation, and personalized user experiences. Prioritize features based on their demand, present trends, their importance and complexity, and your budget.
Backend Development
The overall cost of an app is affected by the complexity and scalability of its backend infrastructure. The creation of a robust backend includes:
Putting security measures in necessary areas.
Integration of APIs.
Storage of data.
Setting up the servers.
According to your needs, you can consider cloud-based services like AWS, which incurs additional costs based on usage.
API Integration
When developing an app like Threads, integrate it with other social media platforms. This allows users to easily share content from your app to their social media accounts, which can help to increase your app's visibility and reach.
It will help your users to sync their linked social media app's data with your App. Connect your App to the desired platforms and enable seamless data sharing by implementing the necessary integrations.
Testing And Quality Assurance
No one will compromise their data privacy and device security to use a social media application.
Before launching your application, identify and fix any bugs and glitches. Here, we recommend compatibility, performance, security, etc., and other functional and non-functional testing methods.
By doing that, you know the quality of the app. Do the necessary test to ensure your application quality if you want to compete with rivals.
Deployment And Launch
After all the necessary development activities, it's time to launch your App in the App Store and Play Store. Follow all the guidelines from stores, and give success to your launch. Help the users to join the trend of killing Twitter along with your App.
Maintenance And Support
After the launch, don't feel relaxed. Gather user feedback, follow the ratings, and check the comments; it will help you know your App's functional disputes. Update your App frequently to remove the bugs and fix the conflicts.
Removing all the bugs at the time of development does not mean that they can not come again. Adding/Removing features according to the trend and demand can help you give your customers a seamless and good in-app experience.
For successful execution, hire a skilled development team or partner with an outsourcing agency.
Must-Have Features For An App Like Threads
When developing a text-based app like Threads, you can start by launching the following essential features:
Enhanced Messaging
Your App must contain various messaging options, like text-based messaging, sharing messages with a limit of 500 words, photos, links, and videos with a decent limit. It will help users to engage with App and spend more time on it.
Seamless Integration
To simplify and shorten the sign-up process for your app, allow users to create an account using their existing social media credentials, just like the Thread app does. This feature helps your users to connect with their social media friends and followers who also use your App. This is so helpful to make your users associated with your App.
Automated Account Following
Synchronize their social media account with your App so the users automatically follow the duplicate accounts they follow on the particular social media platform.
With the help of that feature, they don't have to waste time following the same person again. Provide features for users to search for and follow other accounts directly.
Threads Interface
When making an app like Threads, remember it has a familiar interface like Twitter. So you also need to add the same interface with a user-friendly environment for short-text-based content. This will facilitate your users to repost content, as well as quotes that are similar to retweets.
Create Communities
The community concept means people can connect/communicate with others having similar interests. Users build a loyal following through this feature and express their ideas, opinions, and creativity. They can also share posts with the wider world through your app.
Cross-Platform Compatibility
When developing an app like Threads, you should remember that it must be compatible with both iOS and Android devices and should not have a web presence. Hiring a Flutter developer in India can help you build your App, which will be easy running on iOS and Android.
Turn Out The Noise
The "Turn Out the Noise" feature will give users more control over their experience on your app. With this feature, users can choose who can mention them, reply to their content, and find replies that contain specific words.
It also allows its users to manage their profiles by unfollowing, restricting, blocking, or reporting others on the App, and the exciting part is that the blocked person on the linked social media app will also be blocked automatically in your App.
Key Takeaways
Threads – an Instagram app called "Twitter Killer" is a hot topic nowadays. In just 16 hours after its launch, 30 million accounts were signed up! Like a giant wave. According to the experts, there are around 250 to 500 clone apps or duplicate apps like Twitter, but somehow Threads by Instagram gets special attention from netizens, which also helps to trend other clone apps!
As we've covered extensive information to build an app like Threads, now the ball is in your court. It's up to you and your team to fall into those clone apps lying idle on Play Stores/I Store or use this guide to create an app like Threads.
The following two tabs change content below.

HybridAppBuilders
Co-Founder & Director, Business Management
HybridAppBuilders help you find the best app developer for your needs. We believe in sharing knowledge and increasing awareness, and to contribute to this cause, we try to include all the latest changes, news, and fresh content from the mobile app development world in our blogs.

Latest posts by HybridAppBuilders (see all)