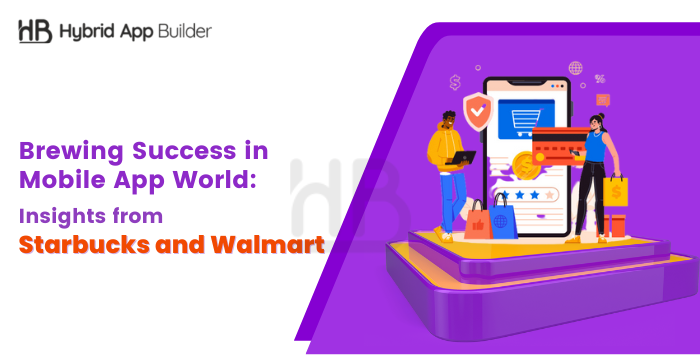 Consider this mind-boggling fact: nearly 6.92 billion people worldwide – a whopping 86% of the global population – are now smartphone users. Stunned? You should be. This massive digitization opens up a goldmine of opportunities for businesses like yours. Are you prepared to take full advantage of this opportunity by partnering with a skilled mobile app development company?
One hurdle often encountered when planning a mobile app strategy is the illusion of high costs. But let's clarify: think of your app as a golden goose rather than a financial burden. It's an investment that, like those made by industry giants, can catapult your sales figures to dazzling heights. Yes, you read that right!
So, let's not beat around the bush anymore. Allow us to guide you through the lucrative world of apps and shed light on how leading multinationals have harvested them for their exponential growth.
How Smartphones And Mobile Apps Are Transforming The Way We Live Today?
With smartphones, communication has become faster and more convenient, allowing us to connect with people across the globe through calls, texts, and video chats. Mobile applications have revolutionized how we access information, making it incredibly convenient to tap into a vast range of knowledge.
With just a few taps on our smartphones, we can effortlessly stay updated on the latest news, receive real-time weather updates, and even receive personalized recommendations tailored to our preferences.
These applications have reshaped how we shop, bank, and navigate, making transactions seamless and travel more efficient. Furthermore, they have made education and learning more accessible and engaging, with interactive lessons and resources at our fingertips.
Let's see why businesses hire mobile app developer to reach a wider audience!
Why Are Mobile Applications A Great Way To Amplify Sales?
Mobile apps are a great way to generate sales, and the businesses that understand this are progressing much today. They can help boost sales and open your company's door to success, some of which are discussed below.
Creates Loyalty Among Customers
If you have your mobile app, you are more likely to create customer loyalty. Rather than websites, people prefer using apps. You may develop loyalty among your clients and forge direct and instantaneous relationships with them by creating a mobile application.
Improves Customer Engagement
Mobile app technology enables seamless brand interactions, as customers effortlessly download your app from any store and connect with you for personalized assistance. With user-friendly interfaces, apps drive increased engagement, attracting customers and boosting revenue through effective app development strategies.
Personalized Experience
Mobile apps offer personalized user experiences, enabling seamless browsing and purchasing of products/services. Notify customers of new launches, deals, and discounts to captivate their attention. Recommend tailored options based on preferences, enhancing the personalized shopping journey.
Data Security
In today's digital landscape, data sharing has become a crucial factor on which customers rely for a wide range of online activities. Conducting transactions from the comfort of home is convenient, yet rising fraud concerns make some hesitant to trust unfamiliar websites. These apps instill confidence as data is securely stored on smartphones, ensuring faster and safer transactions.
Competitive Edge
In the current digital environment, having a mobile app gives firms a competitive edge. Businesses may stand out from rivals, grab new customers, and keep their current ones by providing them with an intuitive and feature-rich app. By developing a mobile app, businesses stand out and support their market advantage.
Hire a mobile app development company and start the process!
How To Power Up Your Profit Through Mobile Applications?
In-app Purchases
Customers can make purchases of goods and services straight from their phones by using mobile app technology as a platform for in-app transactions.
For example, If you have ever played Clash of Clans, you must know that it offers its users the option to make in-app purchases to buy gems, gold, elixir, etc., to help them upgrade their village faster. This allows them to earn more revenue, update their game, and add new features to make it more successful.
Reward Your Customers
It is one of the most effective mobile app development strategies to boost sales and increase revenue. You can reward your customers with coupons or discounts for purchases. This will make them feel more valued and loyal to your product or service.
When customers get rewards, there's a high chance that they will purchase your product or service again, which will increase your sales and revenue.
Push Notifications
You can advertise your product or service to customers by adding a push notification feature to your mobile app. You can send users a push notification whenever you launch a new product or scheme so that they get notified and can take advantage of your scheme.
Doing so gives them a chance to powerfully connect with your brand, as they will feel more welcomed and essential, boosting your sales.
Work On Users Feedback
User feedback plays a significant role in the success of your app. You can make improvements to your app by getting regular feedback from users.
Mobile apps are created with users in mind, and if you provide them with a feedback section, they can suggest what you can do in your app to improve it. Further, your relationship with your customers will strengthen as they become more involved in your app.
User-friendly Interface
How can you make your app more popular? The answer is to create a user-friendly Interface. It means that to engage a larger audience, you need to make your app more convenient and Easy-to-use for the users.
If users face difficulty browsing your app or purchasing your product, they are more likely to leave and shift to another, as many apps in the Market can satisfy their needs. So, to boost your sales, you must provide your customers with a user-friendly app.
Top Brand's Mobile App Development Process – Success Stories
Starbucks
Everyone knows Starbucks coffee today, but what about when it was first established? Was it always so popular? The answer is no! Starbucks entered the Market in 1971 and has held a dominant position since 2017 when it redesigned its mobile app.
After that redesign, Customers can easily order beverages and meals through the app and make payments. This led to a 12 percent rise in sales and an increase in yearly revenue of almost $4 billion.
IKEA
IKEA, one of the leading retail brands in the world, is another brand that peaked in success after developing its mobile app. It was established in 1943, and through its founder's continuous efforts and strategies, it is now a well-known retail brand worldwide.
IKEA launched its mobile app in 2017, and ever since it has succeeded in pleasing its customers. It has boosted its sales to a very high extent since launching the mobile app.
Walmart
Founded in 1962, Walmart is another brand that has become one of the most popular brands since 2014, when they chose mobile app development. Walmart treats its customers like the boss, and they believe that "there is only one boss who is the customer."
Therefore, to ease the efforts of its users, it launched a mobile app. Users can now easily order online and get home delivery, or they can opt for in-store pickup as well. After launching the mobile app, Walmart demonstrated a 79% rise in digital sales.
McDonald's
McDonald's: whenever you hear this name, you must start craving burgers, right? Burgers are one of the most consumed foods in the world, and you know that McDonald's is the highest-selling burger brand in the world! It was founded in 1940, and ever since its launch, it has retained its top name in the Market.
In India, it released its app in 2014 with the help of the mobile app solutions team, and in the US, in 2015. McDonald's has always provided the best-quality burgers to its customers and makes decisions keeping in mind the rising demands of its customers. Since it launched its mobile app, it has been scaling ever higher.
Final Remark
Staying ahead of the competition is crucial in today's fast-paced business world. As proven by industry giants like Starbucks and Walmart, mobile app development has emerged as a game-changer for boosting sales. With seamless user experiences and personalized offers, these brands have harnessed technology to create captivating shopping journeys. To catapult your sales and captivate your audience, it's time to embrace mobile app technology's immense potential. Seize the opportunity to embark on a transformational journey toward mobile app-driven success today!
The following two tabs change content below.

HybridAppBuilders
Co-Founder & Director, Business Management
HybridAppBuilders help you find the best app developer for your needs. We believe in sharing knowledge and increasing awareness, and to contribute to this cause, we try to include all the latest changes, news, and fresh content from the mobile app development world in our blogs.

Latest posts by HybridAppBuilders (see all)