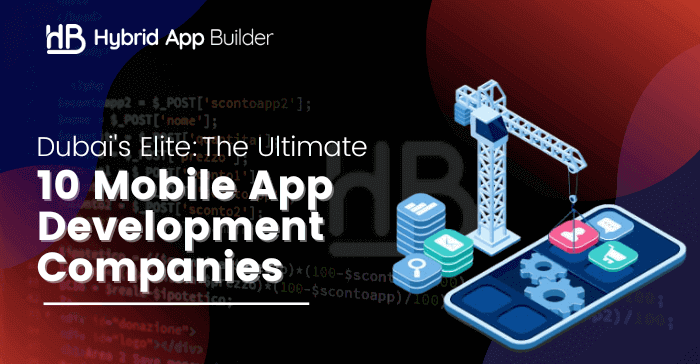 Have you ever wondered who the wizards behind the screen are, transforming the Dubai tech scene with groundbreaking mobile applications? Who are these tech titans that traverse the digital dunes, shaping the industry's future? If you're intrigued by the vibrant mobile app developer Dubai, you've landed in the right place. Let's uncover Dubai's top 10 mobile app development companies.
Looking For The Best Mobile App Developer Company Dubai?
Algoworks
Algoworks is a global software development company that started in 2006 in Noida, India. With additional offices in the United States and Canada, it specializes in innovative and cutting-edge technology solutions, mainly in the mobile app, Salesforce, Testing, UI/UX, consulting, and more.
Algoworks serves clients from various industries, including healthcare, finance, e-commerce, education, and media. The company is on the top lists of Clutch, Deloitte, and Good Firms for its dedication to giving the best to clients and providing fulfilling careers to the workforce.
Taxibot, Socio, and DreamShare are some of the best apps developed by team Algoworks. In mobile app development services, it works on iOs, Android, HTML5, Xamarin, and other new-age technologies.
With a team of skilled professionals and a customer-centric approach, this top mobile application development company Dubai aims to deliver high-quality apps meeting the needs of its clients. It has also got good exposure to emerging technologies such as Artificial Intelligence, Machine Learning, Blockchain, and Cloud Computing to help businesses stay ahead in the digital era.
Scnsoft
SCN Soft (also known as ScienceSoft) is a software development and IT consulting company established in 1989. It has US, UK, Gulf, Finland, Latvia, Lithuania, and Poland offices.
The company offers services and solutions in various domains, including custom software development, mobile application development, web development, enterprise software development, CRM/ERP systems implementation, data analytics, business intelligence, cybersecurity services, IT infrastructure management, and IT consulting.
They work on long-term relationships by providing ongoing support for the products they develop.
TatvaSoft
TatvaSoft is another mobile app developer company Dubai made up in our list for its client-centric approach and great emphasis on delivering value to clients. They have a team of experienced professionals in different technologies and platforms, including Microsoft .NET, Java, PHP, SharePoint, Salesforce, Mobile App Development (iOS and Android), and more.
Clarion Technologies
By choosing Clarion Technologies, you unlock the potential of your brand. Dubai's mobile app development company crafts cutting-edge and future-proof mobile solutions.
With Clarion Technologies, you can expect secure and risk-free development processes as they always prioritize the confidentiality and integrity of your project. There is no contract lock-in period with them giving complete control with transparent communication and collaboration.
ThinkSys
ThinkSys is a company working in the segment of web front-end, web-backend, and mobile apps. This best mobile application development company Dubai, specializes in providing comprehensive services with the help of its expertise.
They develop client-server-based mobile apps catering to business models, including B2B, B2C, and C2B.
Hyperlink InfoSystem
Hyperlink InfoSystem is a company that started in 2011 and is considered one of the best at making apps. This company knows how to create apps for iPhones and Android phones. Its expert team is skilled in using different programming languages and tools to build these apps, like Python, React Native, PHP, Xamarin, and Ionic. They have made over 4,500 mobile apps for more than 2,700 clients worldwide.
Their mobile app developers work on providing services in fintech insurance, healthcare, media, public sector, hospitability, retail, e-commerce, energy, and utilities.
Data EximIT
Data EximIT is one of Dubai's leading app development companies focusing on fulfilling their clients' long-term technological needs. They constantly implement innovative strategies for the timely delivery of high-quality products and services for mobiles.
At Data EximIT, they specialize in building mobile and web applications that are fast, dependable, and packed with features. Their team of application developers has vast experience across various industries.
Atos
Atos holds a prominent position among mobile app development companies in UAE. The company operates across 71 countries and delivers customized, comprehensive solutions to diverse industries. Focusing on quality services and products, Atos remains dedicated to ensuring secure and environmentally friendly digital solutions for its clients.
Atos' overarching goal is to shape the information space's future actively. They use their expertise and services to foster a multicultural approach toward delivering the best products/services. By doing so, they actively contribute to scientific and technological excellence growth.
Shakuro
The Shakuro team excels in creating web platforms, mobile apps, custom design/illustration, and comprehensive branding solutions.
Shakuro prioritizes its clients' objectives irrespective of the industry, primarily ensuring customer satisfaction. To achieve this, they conduct thorough research on user requirements and business goals in advance, aiming to streamline the development process and maximize cost-effectiveness.
Thoughtbot
Thoughtbot is a well-established mobile app developer company Dubai, UAE. They have over 12 years of experience building apps and have successfully served over 100 satisfied clients.
Its highly skilled coders aim to complete and deliver projects on time. Thoughtbot assists organizations in utilizing new technology to gather valuable data, stay ahead of competitors, and foster innovation.
With specialization in creating high-quality games and apps for various platforms such as mobile, iOS, Android, consoles, Mac, Windows, PC, browsers, and Facebook, they have made their places in the top 10 lists. Additionally, they develop customized virtual reality (VR) and augmented reality (AR) games, apps, and experiences for multiple platforms.
Concluding Remark
We know the ultimate decision for choosing the best mobile app developer company Dubai is your responsibility. However, we're sure to assist you in kickstarting your search for the top company that is a perfect fit for your business. And don't overlook sharing experiences after working with the above-mentioned companies.
The following two tabs change content below.

HybridAppBuilders
Co-Founder & Director, Business Management
HybridAppBuilders help you find the best app developer for your needs. We believe in sharing knowledge and increasing awareness, and to contribute to this cause, we try to include all the latest changes, news, and fresh content from the mobile app development world in our blogs.

Latest posts by HybridAppBuilders (see all)